Balcony Boss is reader-supported. When you buy through our links, we may earn a small commission at no cost to you. For additional information, please view our policies.
If you don't use your balcony over winter, the chances are that it'll need sprucing up before the warmer months roll around. Depending on what you use your balcony for – and what you have on it – this can be a fairly in-depth job.
To get you started, here are some of the most useful balcony spring cleaning tips that'll prepare for space for summer.
1. Clean Your Furniture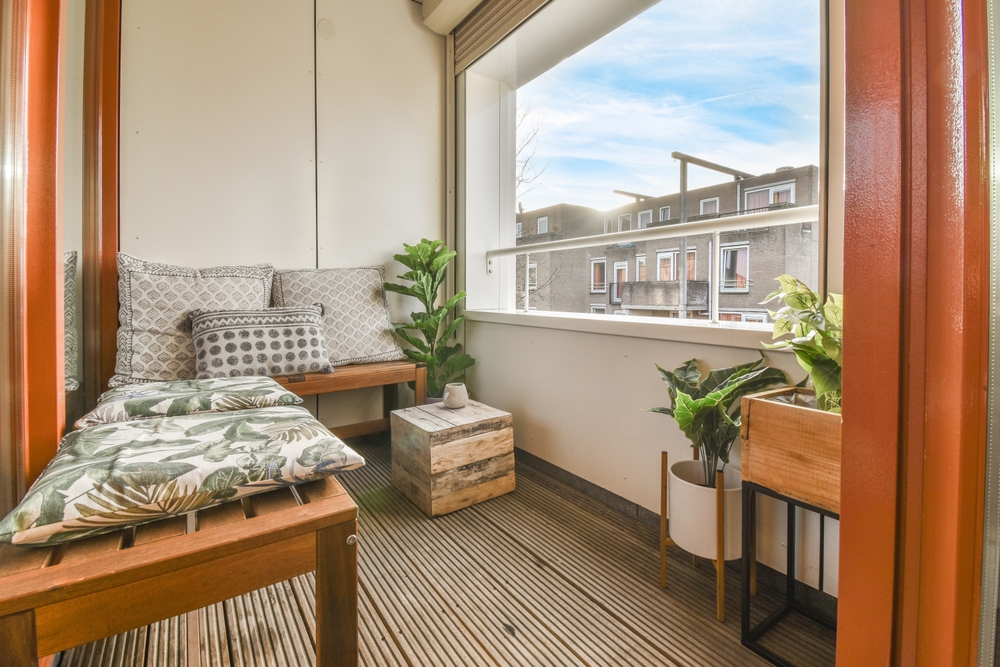 Outdoor furniture can get pretty dirty over winter, particularly if you live in an urban area and you get snow or rain. Luckily, cleaning your furniture isn't a difficult job.
Plastic, metal and wood furniture can all be cleaned with a stiff brush. This'll help remove any dirt and loose debris before you start the deeper cleaning.
For metal and plastic, it's best to wash them with warm water and dish soap. Start at the top and work down, wiping away any excess suds.
Wood furniture, however, shouldn't get too wet. You can wipe it down with a damp cloth if it's painted or varnished, but avoid washing it too heavily. Oiled furniture needs to be treated with linseed oil (such as this) at the beginning of each season.
While you're in furniture cleaning mode, consider washing your outdoor cushions too.
2. Prepping Plants
If you have any perennials on your balcony, now is a good time to take care of any pruning you didn't do in fall. Most plants have specific pruning instructions, so make sure you look them up first.
It's also worth replacing some of the pot's soil with some fresh topsoil. This is an easy way to get fresh nutrients to the plant without extra fertilizing. Dig out an inch or two of soil and replace it with some fresh compost or bagged soil.
3. A Fresh Touch of Paint
Outdoor paint can look a bit ropey after a winter season. Cleaning time can be perfect for repainting any rough-looking areas, which is especially true for white walls.
Check out our full guide on how to paint balcony walls for the steps, and our post on balcony painting ideas for some inspiration.
4. Don't Forget the Floor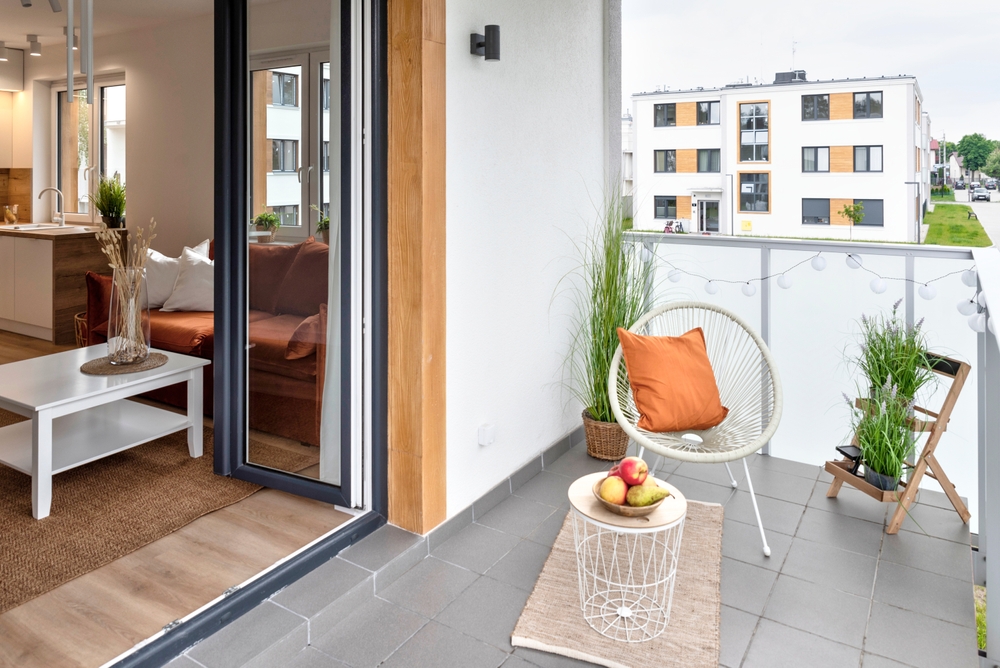 Your balcony's floor is probably looking less than fresh right now, so give it the attention it deserves in time for you to appreciate your outdoor space.
Cleaning a balcony floor really isn't difficult. Start by sweeping to pick up any debris and leaves. Next, consider washing the floor to remove any algae or other marks that might have popped up during the winter.
Tiles and other similar flooring materials can be mopped (although you might want a specific mop for doing this rather than using your indoor one). Concrete can be cleaned with a stiff broom and soapy water, allowing you to give it a good scrub.
5. Check Your Lights Work
Outdoor lights should ideally be brought indoors over winter, especially if you're not planning to be out on your balcony. Whether you brought them in or not, you'll want to check they actually work!
Mains-powered lights can just be plugged in, but solar-powered ones will obviously need to be tested at night. If a bulb or two has gone, just replace them with a suitable alternative. However, if the whole set of lights isn't working, consider looking for some new ones.
6. Time to Redecorate?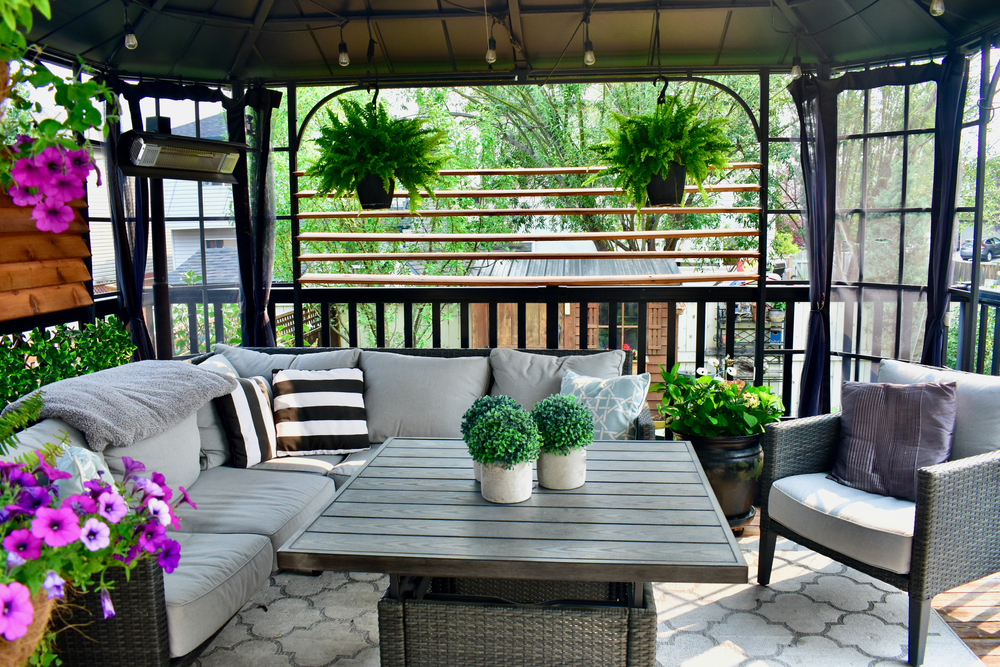 Spring cleaning your balcony can sometimes make your existing setup look surprisingly tired. After all, if you give all the furniture a good clean and it still doesn't look great, it might be time to replace it.
This can be a great opportunity for trying a new style, such as boho, Scandi, tropical, and many more. Of course, it doesn't need to be expensive – check out our balcony decorating on a budget guide for some tips.
7. Plan Your Garden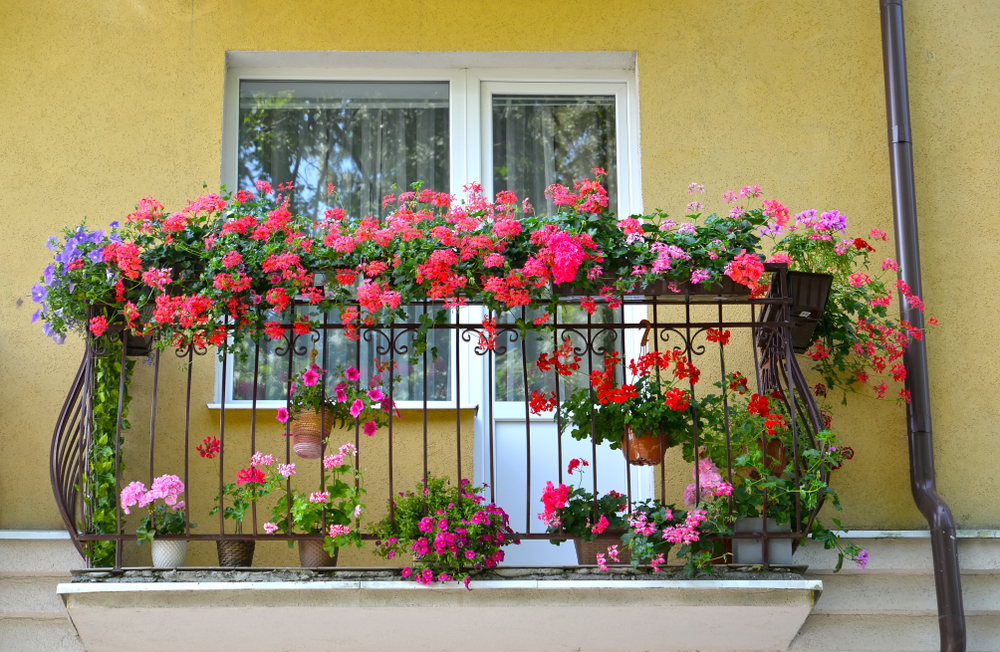 Spring is the ideal time to plan your summer garden. This could involve pot-grown crops, summer flowers, and everything in between. It's best to think before you buy, so you can consider things like companion plants, pot layout, and the supplies you need.
Think about what space you have and what sort of things you want to grow. You'll find plenty of inspiration in our gardening section, so check it out.
Final Thoughts
Spring is a season of rejuvenation. Take it as a sign that it's time to clean your balcony in preparation for the upcoming warmer months. It doesn't have to be a big job, so bust out the broom and get cleaning!