Balcony Boss is reader-supported. When you buy through our links, we may earn a small commission at no cost to you. For additional information, please view our policies.
A Juliet balcony is a great architectural feature that helps open up a room. However, from an outdoor perspective, it's a bit lacking in space. You therefore need to be quite selective with how you decorate your Juliet balcony to make the best use of what room you have.
If plants are your decoration of choice for a Juliet balcony, you'll probably have more options than you might think. To get you inspired, here are 12 of the best plants for a Juliet balcony.
What to Look for in Juliet Balcony Plants
When choosing plants for your Juliet balcony, make sure you consider the following:
Planter size. Think about the plant's size in relation to the planter it needs. For example, loads of small flowering annuals can be grown in a railing planter, which gives you plenty of yield for the space used.
Sunlight. As with any balcony planting, you'll need to consider your balcony's aspect and how sun exposure might influence the plants you grow.
Climbers, creepers, flowers. Consider what you actually want from your plants. Is it privacy, shade, or simply decoration? This decision will impact what plants are most suitable.
The Best Plants for a Juliet Balcony
1. Pansy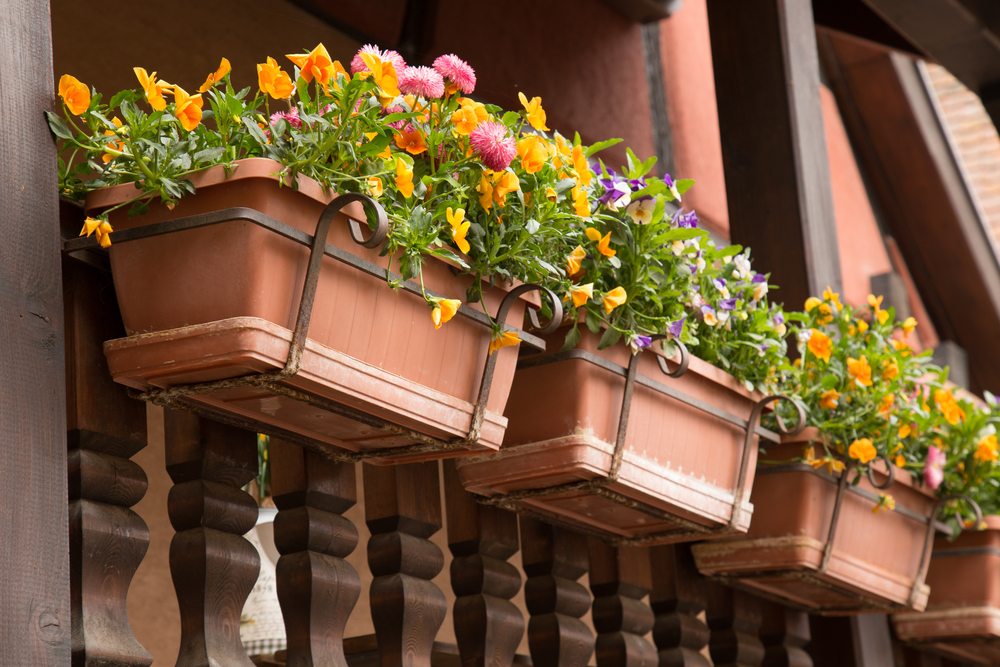 You can't go too wrong with pansies in a balcony railing planter. As shade-loving plants, they're ideal for north-facing Juliet balconies. Pansies come in loads of colors, so you can easily match them to your overall design vibe.
2. Ivy
Ivy is perfect as a trailing plant on a Juliet balcony. It grows vigorously in all different conditions and climates and it doesn't need loads of planter space. You could plant a few ivies in a rectangular planter (such as this) and have them grow over your balcony railing.
3. Morning Glory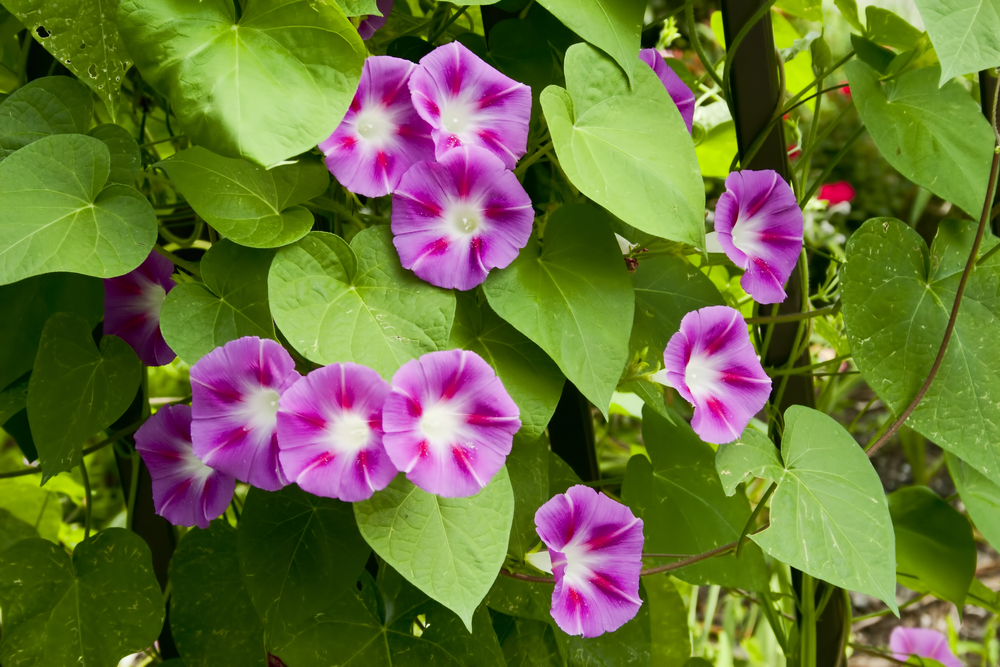 Morning glory covers more than 1,000 species of plant, plenty of which look great grown up a trellis on a Juliet balcony. Plant them in a 20-inch round planter (like this), add a trellis, and you'll end up with some amazing vertical displays to complement your trailing plants.
4. Nasturtium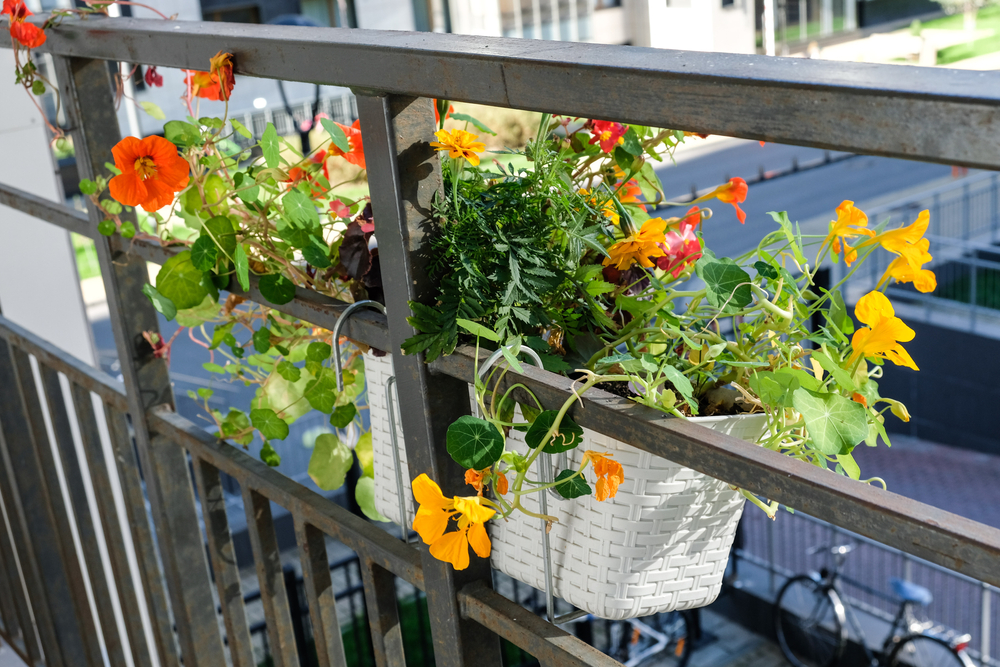 Nasturtiums are another great choice for railing planters. Like ivy, it's a trailing plant, but it grows massive trumpet-shaped flowers that pollinators love. Plus, you can eat both the flowers and leaves, so it's great for balcony gardening if you don't have loads of space.
5. Jasmine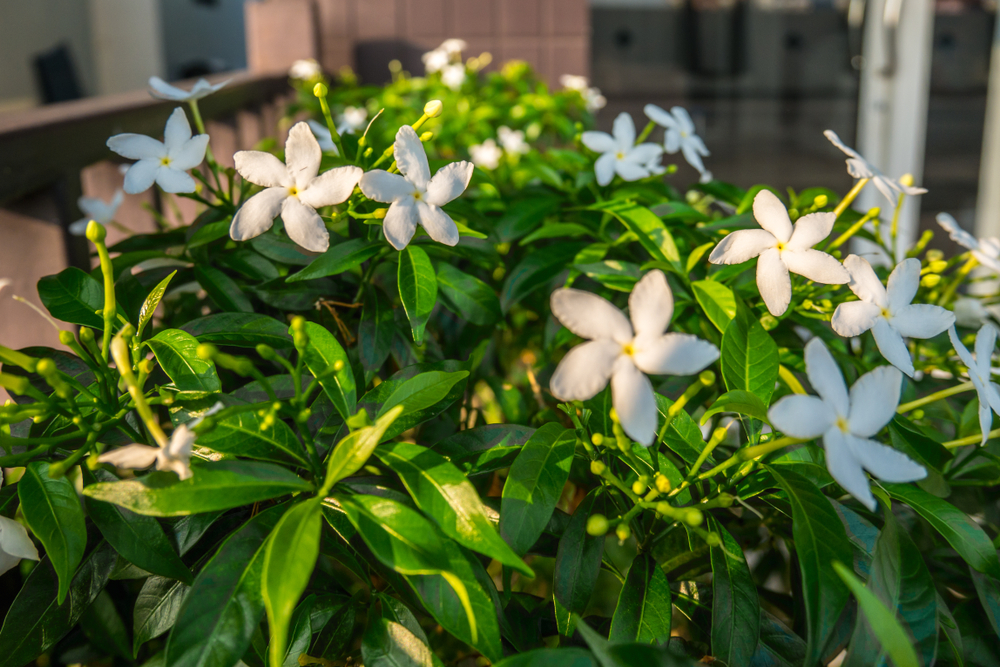 Jasmine can easily cover a whole balcony in a few years if grown in the right conditions. It appreciates full sun, so a south-facing balcony will be a good option. There are summer and winter flowering types, both of which produce amazing-smelling flowers.
6. Tomatoes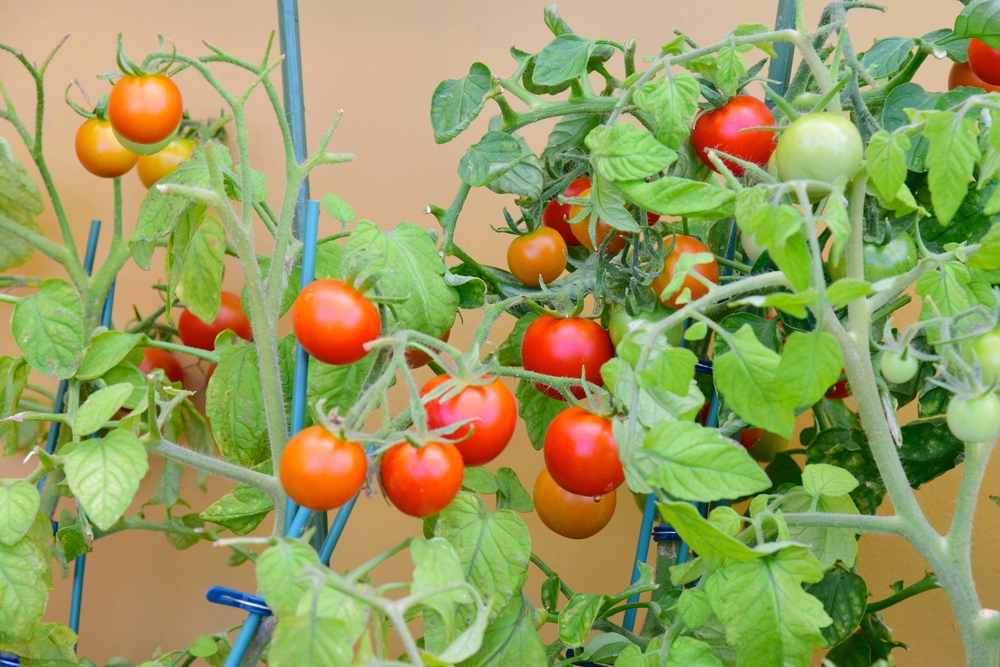 This might be a bit of a curve ball, but tomatoes are a great choice for Juliet balconies if you want a crop plant. They can be grown in 5-gallon pots and can be kept nice and compact if you're dealing with smaller spaces. While crops might not be your first thought for decorating your Juliet balcony, it can be a viable use of space.
7. Sunflowers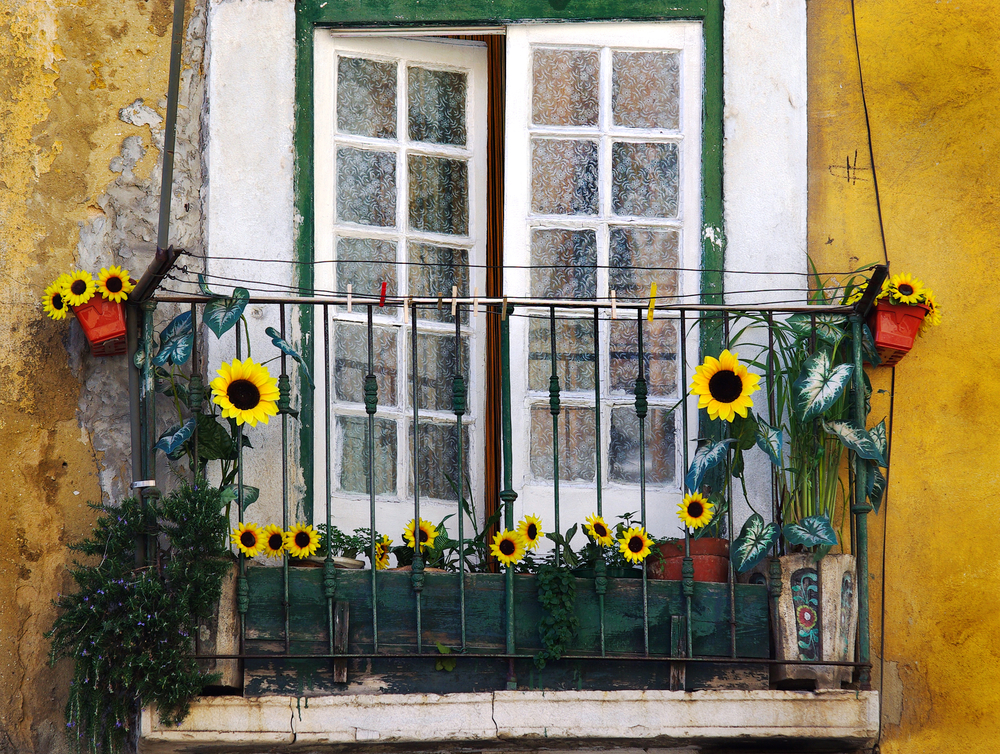 Sunflowers don't really need selling as an addition to any balcony. They work well on Juliet balconies because they need surprisingly little pot space considering how big they can get. If you want to keep things neater, choose dwarf varieties and plant a few in a window box on your balcony.
8. Sweet Peas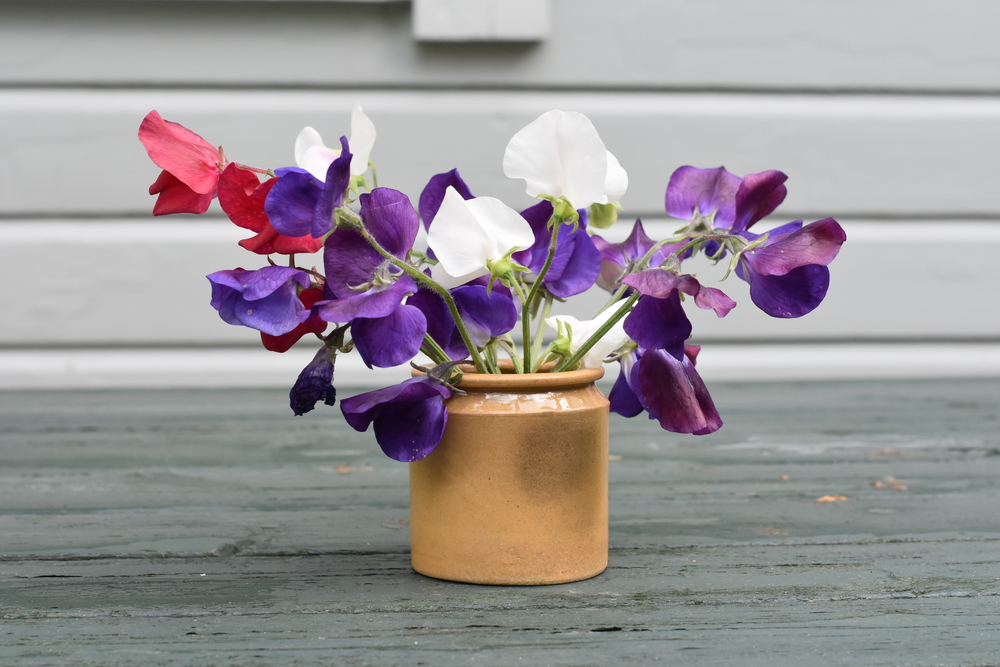 Sweet peas are a great option if your Juliet balcony opens onto your bedroom and you like having the doors open. These plants produce loads of sweet-smelling flowers all summer, and the fragrance can fill a room in a matter of minutes. Better yet, they can be grown in small pots and trailed over your balcony railing.
9. Japanese Maple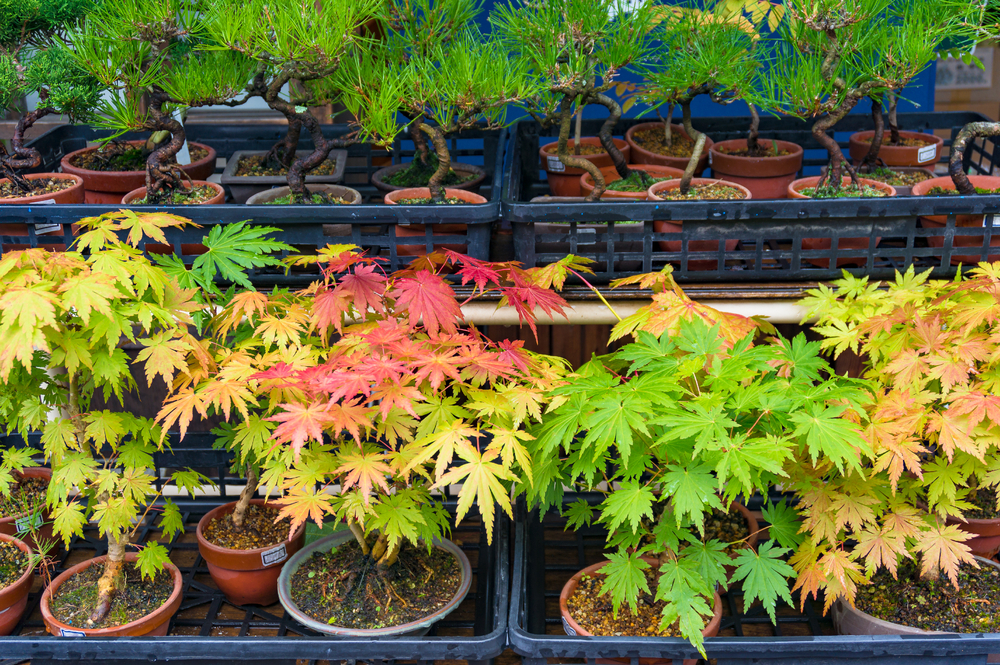 Also known as Acer, this plant will work well on a Juliet balcony. You'll need a bit of room for the planter (it needs to be at least 16 inches), but you can keep an Acer going for years with the right care.
10. Arborvitae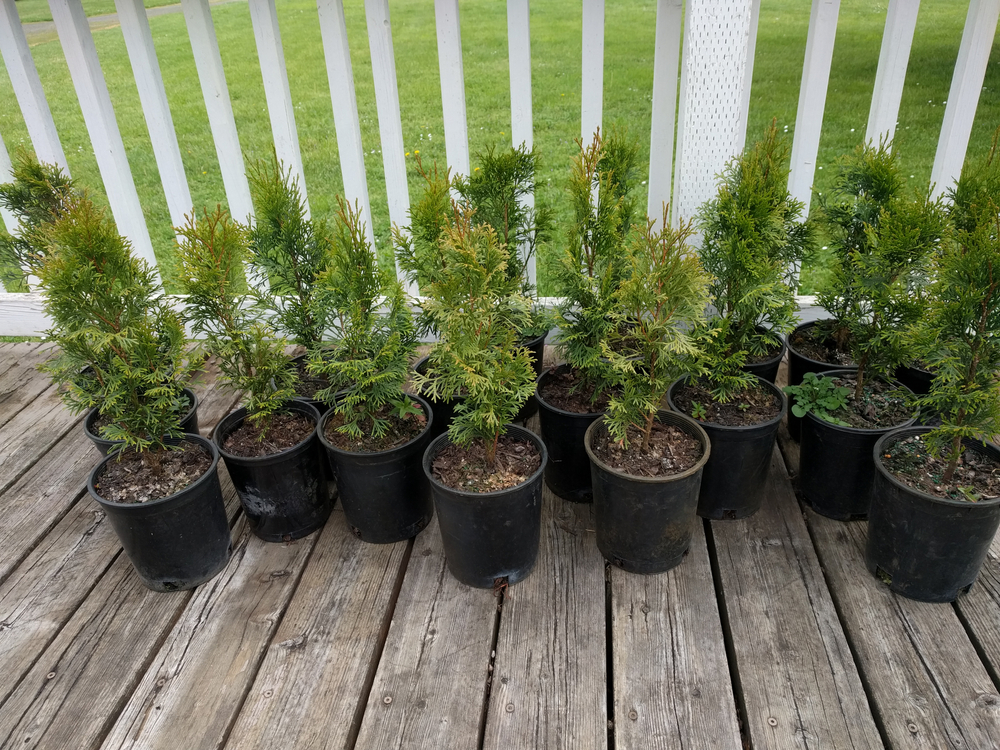 Arborvitae is a popular type of decorative tree that can be kept very compact. They'll look great on a Juliet balcony as a frame for the door or as some kind of bordering plant. Arborvitae is pretty easy to care for and can be quite forgiving for new gardeners.
11. Hydrangea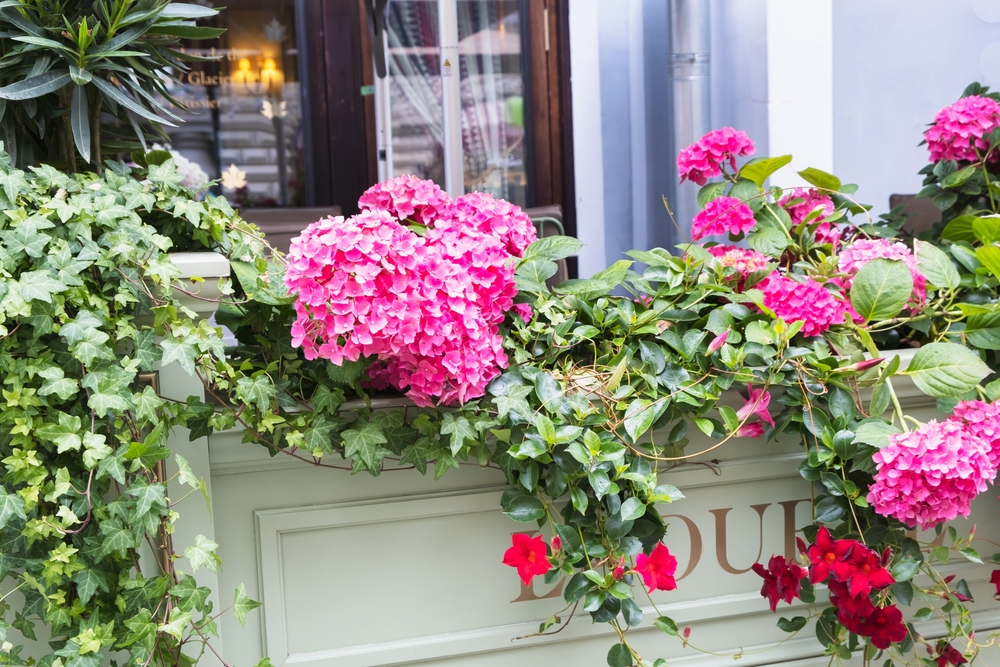 Hydrangea is a great plant for decorating small spaces because you can tailor it to any size you need. If planted in the ground, it can grow to 10ft or more. But kept in pots, you get a compact plant that produces loads of flowers. Plus, you can change its color based on the soil's pH!
12. Lavender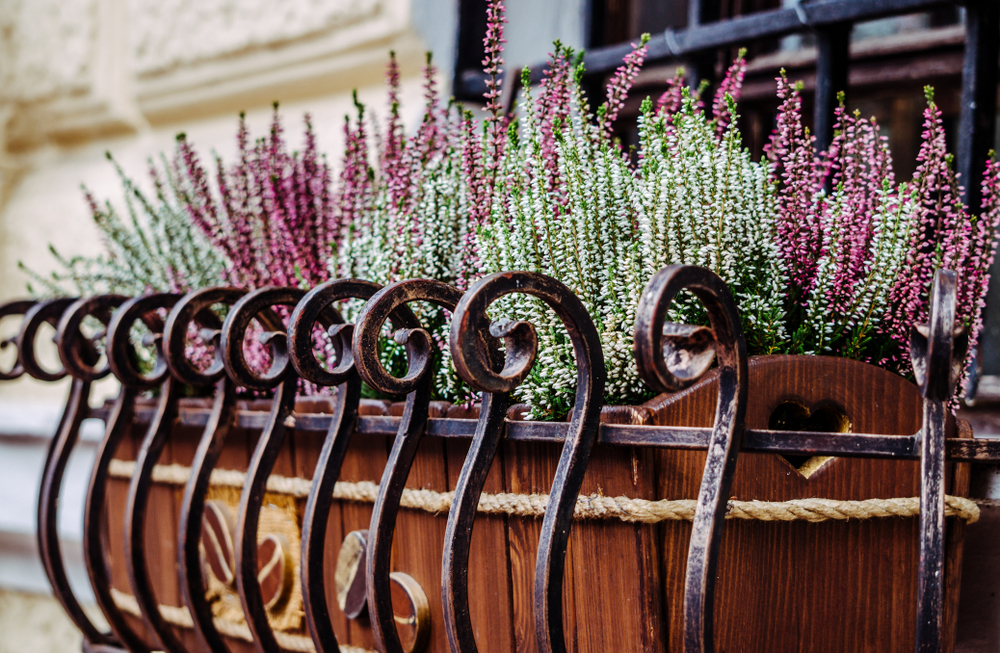 Like sweet peas, lavender is a great option for room fragrance with minimal upkeep. Plus, lavender adds to the European vibe that comes with a Juliet balcony. Make sure you grow them in full sun, but you can keep them in anything from a railing planter to a large pot depending on your setup.
Final Thoughts
Hopefully, there are a few plants on this list that'll look good on your Juliet balcony. Think about the space you have and your requirements, and then get planting!