Balcony Boss is reader-supported. When you buy through our links, we may earn a small commission at no cost to you. For additional information, please view our policies.
Although most of us probably know our balconies from our patios, there can be subtle differences between all private outdoor spaces. What is the difference, for example, between a balcony and a veranda? Or a balcony and a terrace? Understanding these differences helps when adding them to a property and is key to working out how you'll decorate and use them.
So, to help you out, here's a list and description of every type of outdoor space.
Types of Private Outdoor Spaces
Balcony
A balcony is a platform that extends from the wall of a building, typically above the ground floor level. An important characteristic of a balcony is its balustrade or railing, which exists for safety reasons.
There are numerous types of balconies, including:
Balconies are common in apartment complexes and condos, as these usually lack individual outdoor spaces. However, plenty of larger homes feature balconies on their upper floors.
Porch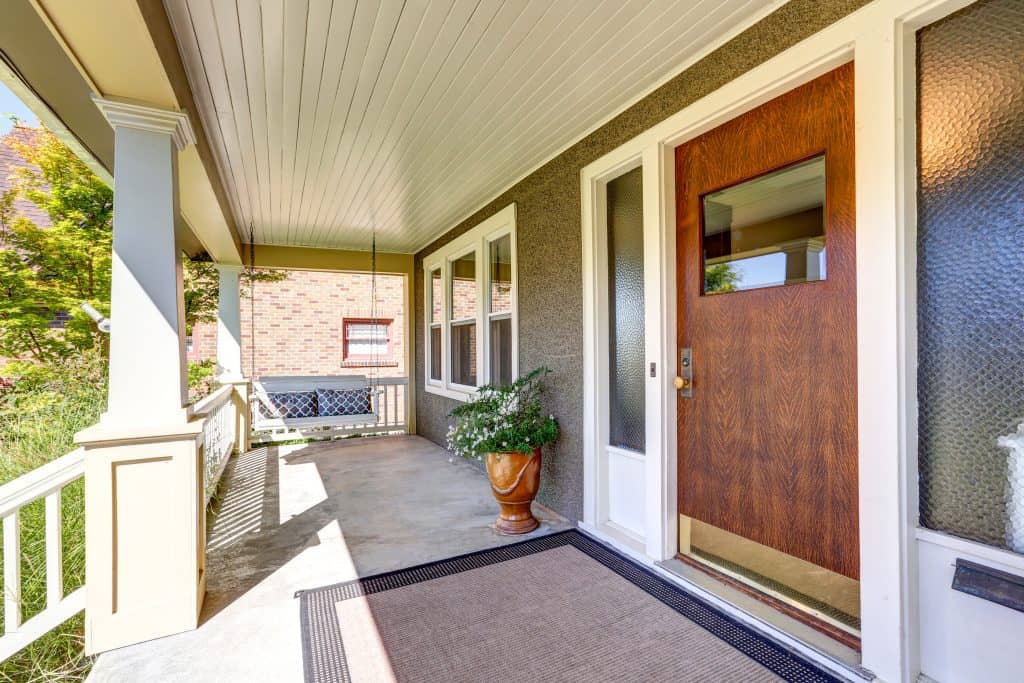 A porch is a covered space on the ground floor of a home, usually at the entrance. A porch may have railings and columns, or it may be totally enclosed with a screen or wall.
In some countries, a porch is essentially a mini room on the front of the house, enclosing the door. It's common in places like the UK, whereas in the US, colonial-style porches are standard. There's not much else to say about the different kinds of porch, as this mainly depends on where on the property it's located.
Another kind of porch that deserves its own attention is the lanai. Originating in Hawaii, it's a roofed space with one or more walls open to the outside. It differs from other porches, as porches are either usually completely open or completely enclosed.
Deck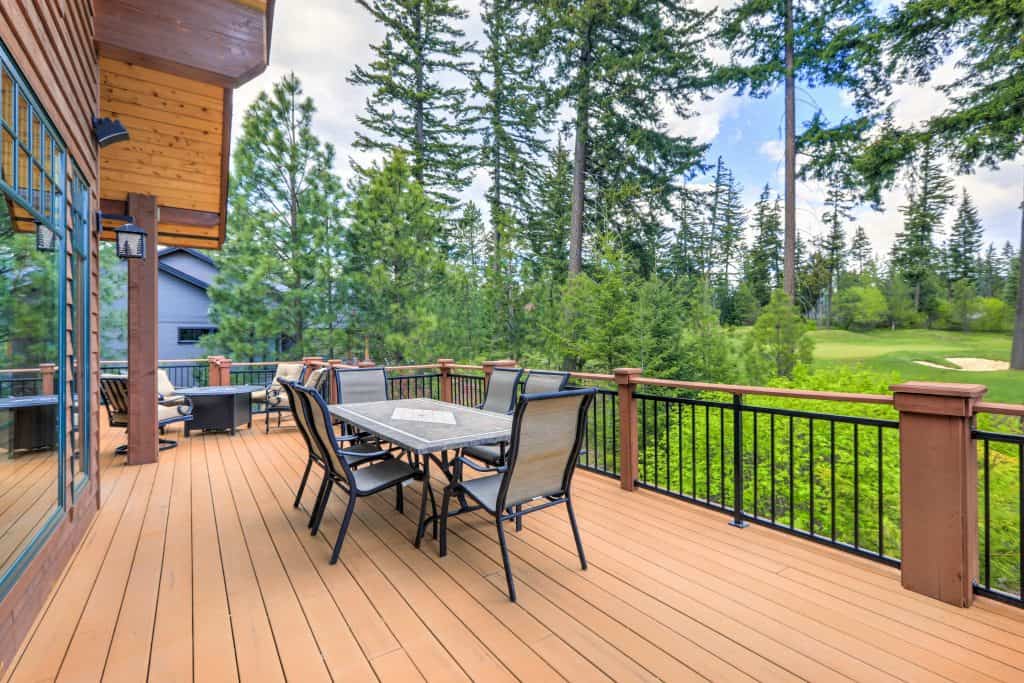 A deck typically consists of a load-bearing floor that extends from the side of a building. The most common material for a deck is wood, although composites and plastic can also be used. A deck can be raised above ground slightly, but this isn't necessary.
In urban spaces, rooftop decks consist of man-made green spaces. They're also known as sky parks.
Some houses may have a detached deck, which, unsurprisingly, is located elsewhere on the property. It's common around a pool or as a way to use difficult or uneven terrain.
Veranda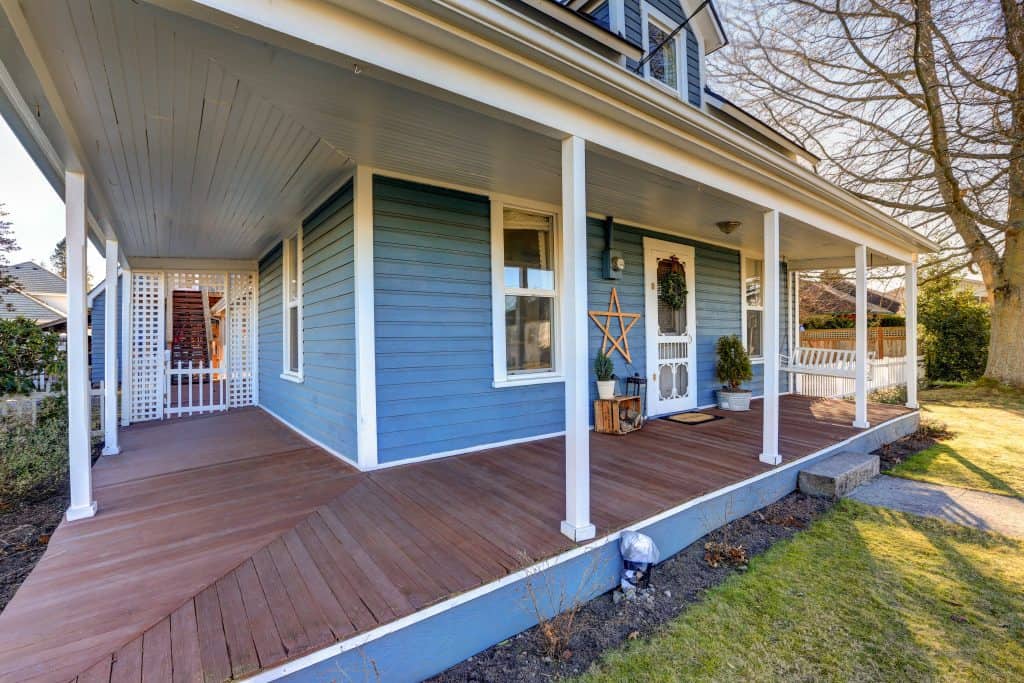 A veranda is almost identical to a porch. The biggest difference is that a veranda extends around the side of a building rather than just being on one side (making it the same as a wraparound porch). As with a porch, it's common for a veranda to have a roof and railings.
There are different types of veranda, although it mainly comes down to roof design and the complexity of the other elements. Veranda types include:
Flat roof
Gable roof
Sunroof
Pergola
Curved roof
Gazebo
Patio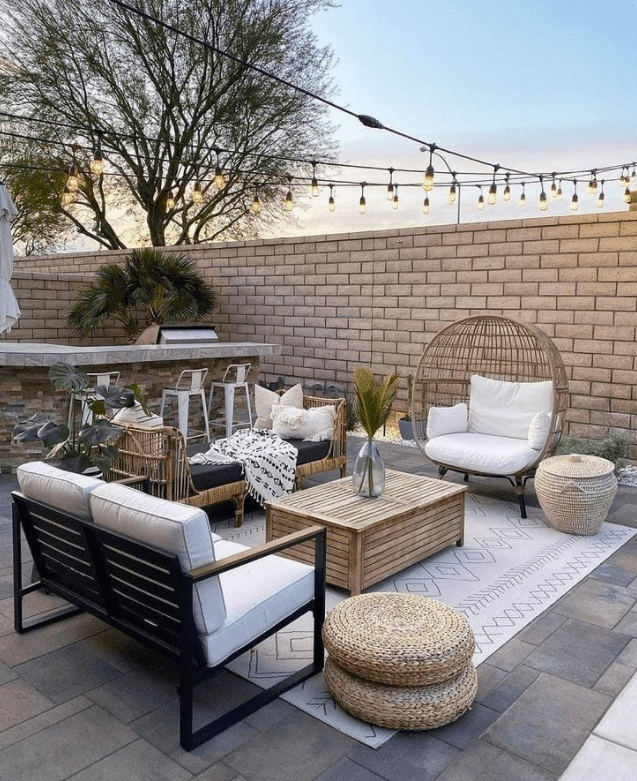 A patio is a paved space, usually adjacent to a building, that's used for dining and recreation. There's no set material for a patio, but paving slabs, stone, brick and concrete are the most common. Gravel is another option, and is usually the best choice for DIY patio projects. However, it does mean dealing with loose material, whereas the others use set materials.
A patio is commonly decorated with outdoor dining equipment, BBQs, and potted plants.
Terrace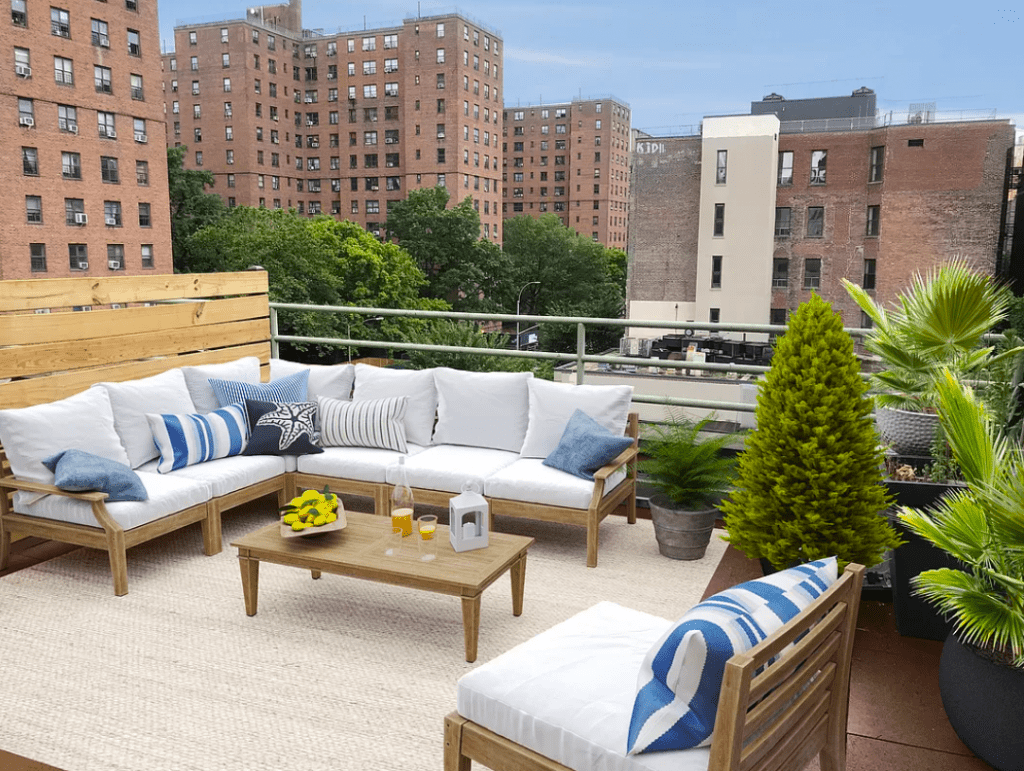 A terrace is one of the broadest categories of outdoor space and actually overlaps with many of the ones listed above. In short, a terrace is an open or enclosed space connected to (or separate from) a building. As such, we could consider anything from a covered porch to a balcony as a terrace.
The biggest difference between a terrace and a balcony, however, is that a balcony will always be truly private. For example, if a condo is listed as having a balcony, the space will only be accessible from that condo. A terrace, on the other hand, could be a shared space between multiple condos. Many condos or apartments, for example, have shared rooftop terraces.
Chart of Differences
The differences between these outdoor spaces should be fairly clear, but here's a chart of the most important aspects to help you differentiate.
| | | | | |
| --- | --- | --- | --- | --- |
| Outdoor Space | House or Apartment? | Covered? | Common Materials | Private? (Used by single property) |
| Balcony | Both | Yes or no | Wood, concrete, metal | Yes |
| Porch | House | Yes | Wood | Yes |
| Deck | House | No | Wood, composite, plastic | Yes |
| Veranda | House | Yes | Wood | Yes |
| Patio | House | No | Stone, brick, gravel | Yes |
| Terrace | Both | Yes or no | Anything | Not always |
Final Thoughts on Private Outdoor Spaces
Hopefully, these definitions will clear up any confusion you might have about outdoor spaces (unless it's a terrace!). Knowing the difference is particularly useful when looking at property listings, but will also help when it comes to renovation work on your current home.