Balcony Boss is reader-supported. When you buy through our links, we may earn a small commission at no cost to you. For additional information, please view our policies.
The style of balcony you have can often dictate the type of décor you select. We've previously written guides for decorating a Juliet balcony and a glass balcony, and now we'll cover important tips to follow when working with a cantilever balcony.
What is a Cantilever Balcony?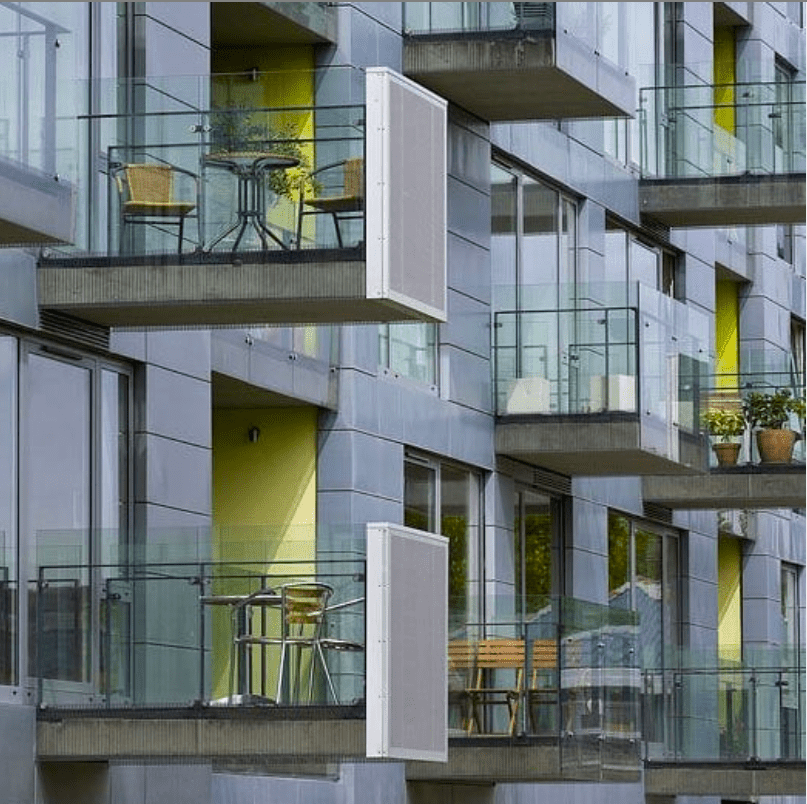 A cantilever balcony is one that uses support joists (cantilevers) underneath to give a much cleaner look than other balcony styles. They look like individual extensions from each indoor space they're attached to and are open on 3 sides.
While they look pleasing, the design means there are some important considerations when decorating a cantilever balcony.
Pros and Cons of a Cantilever Balcony
The main advantage of a cantilever balcony is that it has less "mess" architecturally than other balcony designs. The support joists form the balcony's base, which can look more modern and much cleaner.
But, this can lead to a few downsides. These include:
Cantilever balconies are smaller due to the design limitations.
The weight limit of a cantilever balcony is lower.
They can feel quite exposed due to the lack of surrounding or supporting structures.
It's worth considering these limitations when it comes to decorating your cantilever balcony, as you'll need to be careful with what you put on it.
7 Tips for Decorating a Cantilever Balcony
1. Plants in trays
By all means, put plants on your cantilever balcony, just make sure you put them in drip trays. It's common for builders to use indoor woods for the support joists, which are prone to rot and weathering. As such, you should limit water exposure as much as possible.
2. Be sparing with furniture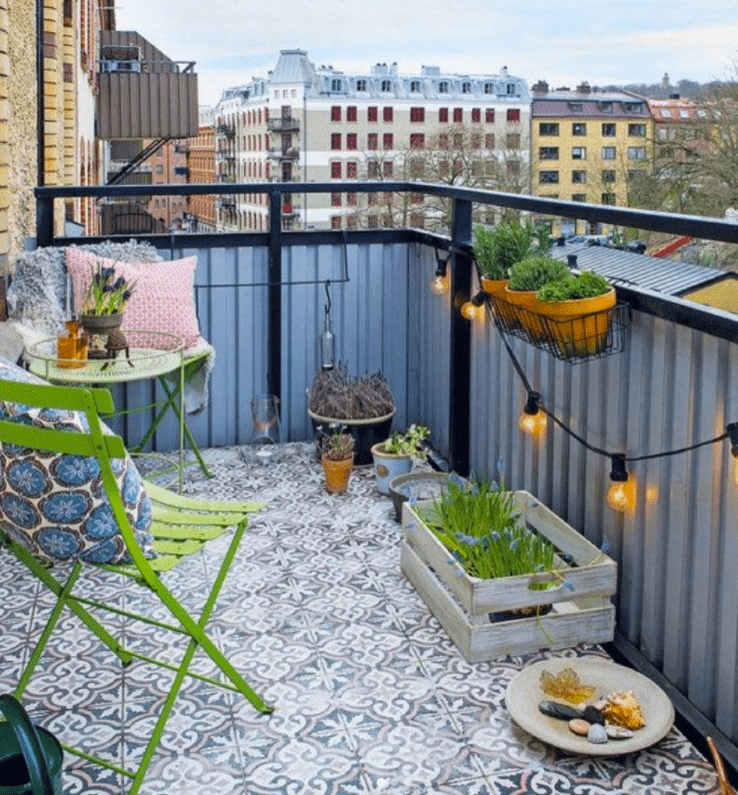 Similarly, the weight limit is much lower on a cantilever balcony. A simple set of garden furniture (plastic table and chairs) or small sofa should be your limit.
3. Use privacy screens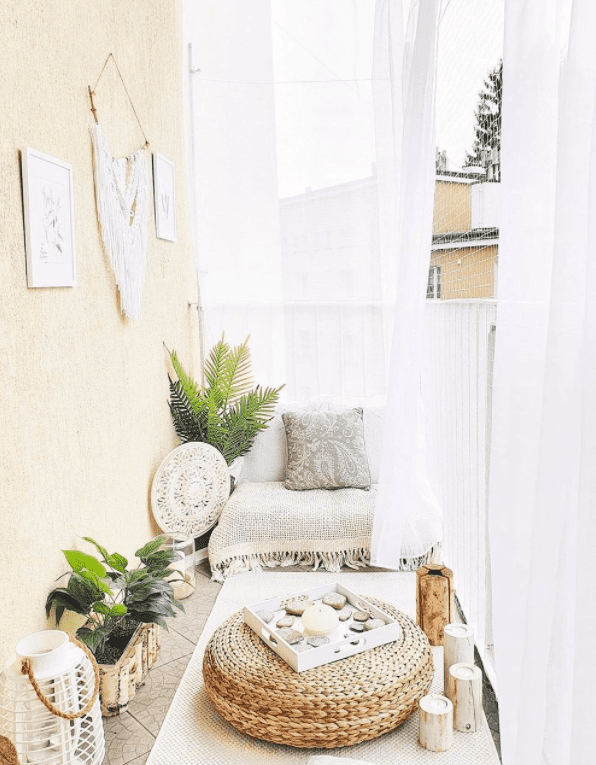 A cantilever balcony can feel quite exposed, making privacy screens a big benefit. Check out our article on balcony privacy screens for some options.
You can even think about combining options (like in the above photo) by using a fabric privacy screen and some curtains for extra effect.
4. Wall or Railing lighting
Again, space isn't your friend on a cantilever balcony. Consider using adhesive wall lights (if renting) or string lights wrapped around the balcony railing. Whichever you choose, solar or battery power is best.
5. Go monochrome
There aren't really any color guides for decorating a cantilever balcony. However, choosing a monochrome palette can help if your balcony is particularly exposed. It'll draw less attention to the balcony than lots of bright colors will.
6. Freedom with flooring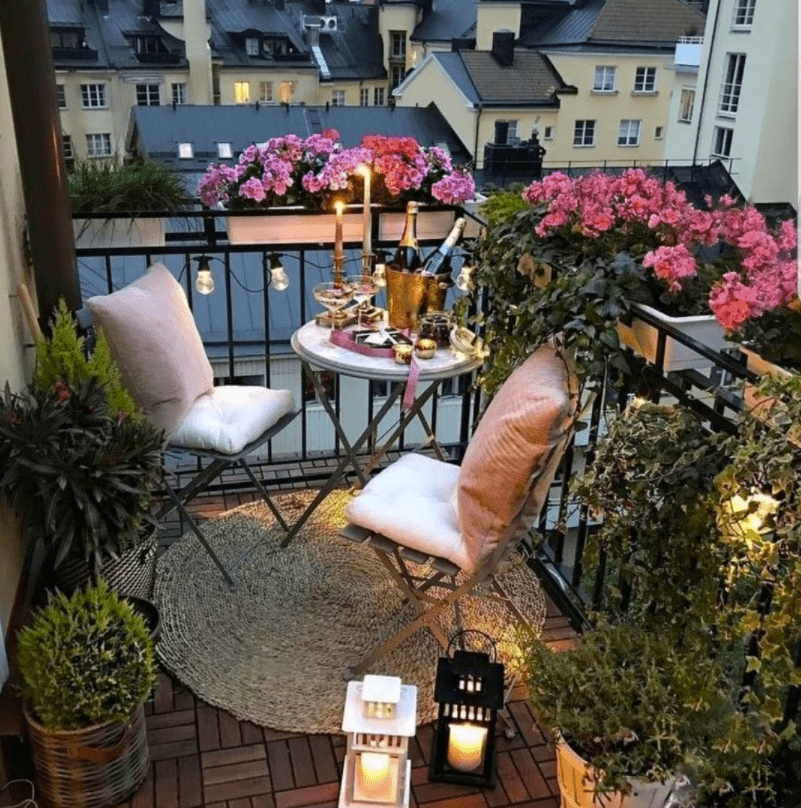 The only real restriction with flooring on a cantilever balcony is that it must be waterproof. Something like decking tiles can work well because they're lightweight, easy to install, and completely weatherproof.
7. Choosing accessories
Choosing accessories for a cantilever balcony is difficult because of the lack of space. Ensure any accessories you choose actually serve a purpose rather than just looking nice. For example, decorative plant pots or table lighting are good options.
Final Thoughts
Decorating a cantilever balcony takes a bit more thought than other balconies, but it's still possible to make it look great. Along with the suggestions above, consider checking out our article on how to decorate fire escapes, as many of the principles are the same. Just make sure you consider weight restrictions, and everything else is fairly self-explanatory.