Balcony Boss is reader-supported. When you buy through our links, we may earn a small commission at no cost to you. For additional information, please view our policies.
Outdoor summer décor is perhaps one of the easiest seasonal categories. After all, everything is bright and sunny, right? But it can be equally overwhelming because there's so much choice of styles and colors.
To help inspire you and narrow down your choices, here are 7 summer balcony décor ideas that'll liven up your space.
When to Start Decorating for Summer
The general consensus for when to start putting up outdoor summer décor is sometime around May. For most people, summer officially starts in June, so it's nice to have everything in place before then.
However, if you're planting specific things for summer, you'll need to start much earlier. The exact deadline varies depending on the plant and your location, but it could start as early as January or February if you're planting from seed.
7 Summer Balcony Décor Ideas
As with our other seasonal guides, these suggestions are mainly meant to inspire you with some colors and styles. How you use them should be completely up to you!
1. Flowers
If we're talking outdoor summer décor, flowers are an obvious place to start. Most plants have their flowering season in summer, so it's super easy to make your balcony come alive with color.
Railing planters are always a good place to start, particularly for things like pansies or other trailing and bushing plants.
2. Outdoor bar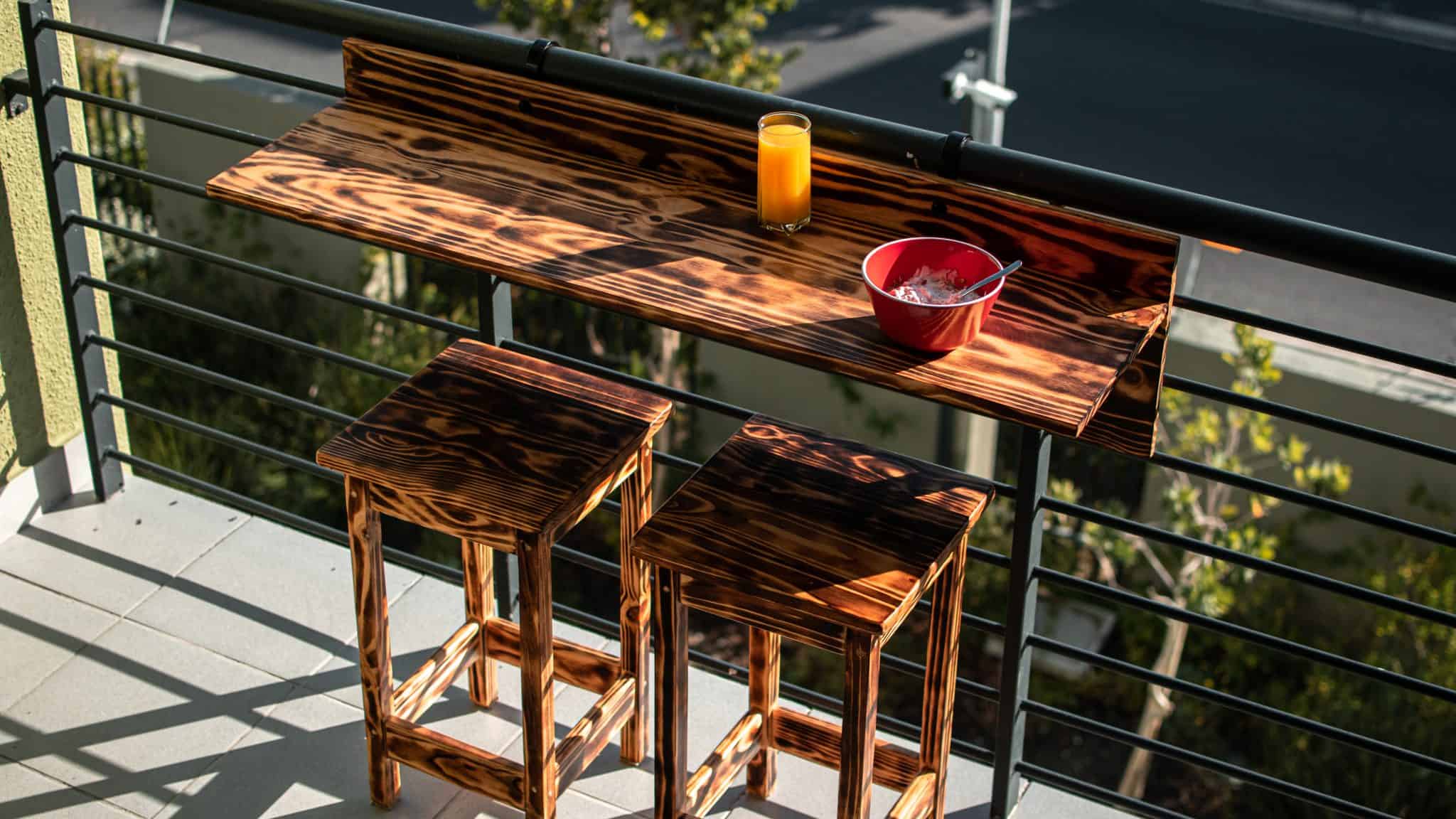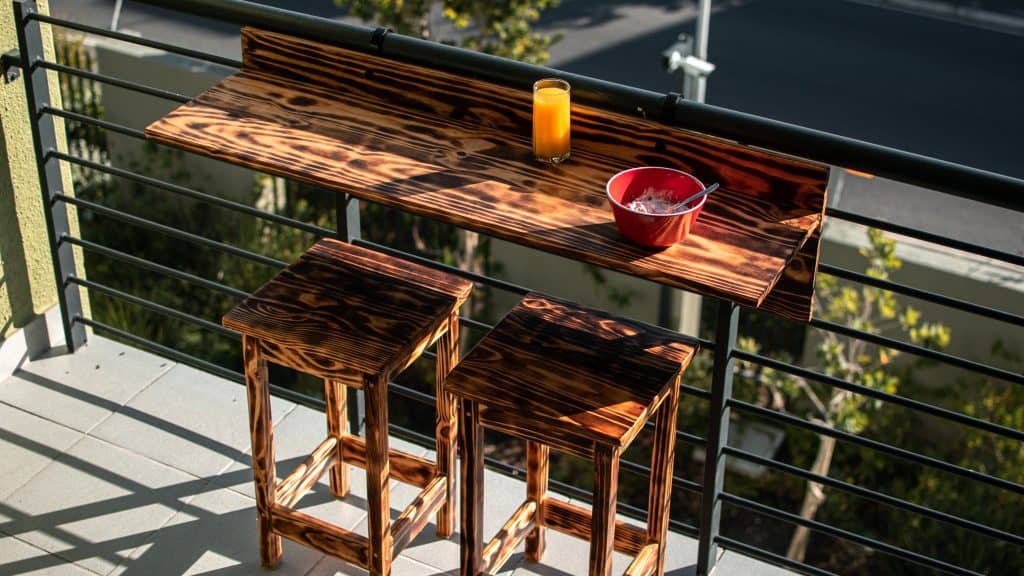 Summer means spending more time outdoors, so save yourself some time by bringing the bar out with you! With a bit of planning, you can turn the bar itself into a piece of outdoor summer décor.
You could buy a vintage maid's trolley, as they work great for movable bars. Alternatively, consider building your own. Check out our guide on DIY furniture for a few different ideas.
3. Summer colors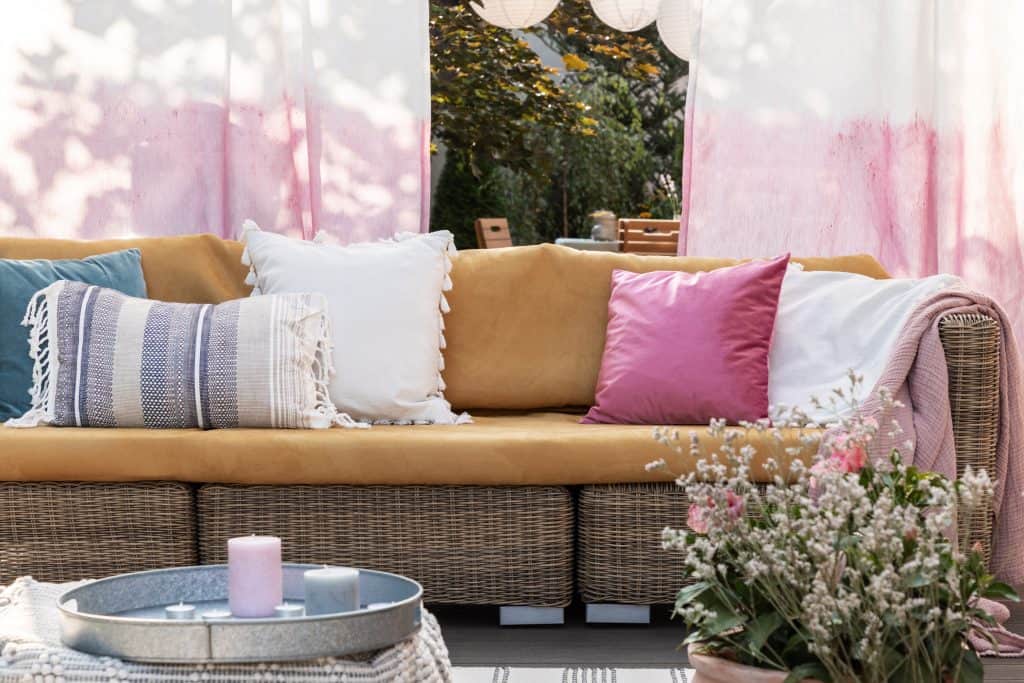 One of the best things about summer is the sheer range of color. Unlike fall and winter, which have fairly well-defined color palettes, summer can be basically any color you like.
Consider adding some floral pillows to your seating for pops of bold color, or completely overhauling your design scheme to be more tropical.
If you want to keep it more manageable, look for colors like pink, red, orange and green. The easiest way to decide which colors to use is to look at the flowers you're planting. Simply match – or contrast against – these colors.
You don't have to buy pillows, either. Try repurposing existing pillows that you have and make some DIY pillow covers in summer colors!
4. Bring in Some Shade
Summer means longer days and more sun, but you'll still want a temporary break from the heat!
Using curtains in your outdoor summer décor is a great way to provide shade and add some interesting movement. Consider hanging linen or gauze curtains. They offer enough shade and plenty of privacy without blocking too much light.
If you aren't able to add curtains, consider something like an outdoor umbrella or grow some tall plants for shade.
5. Summer scents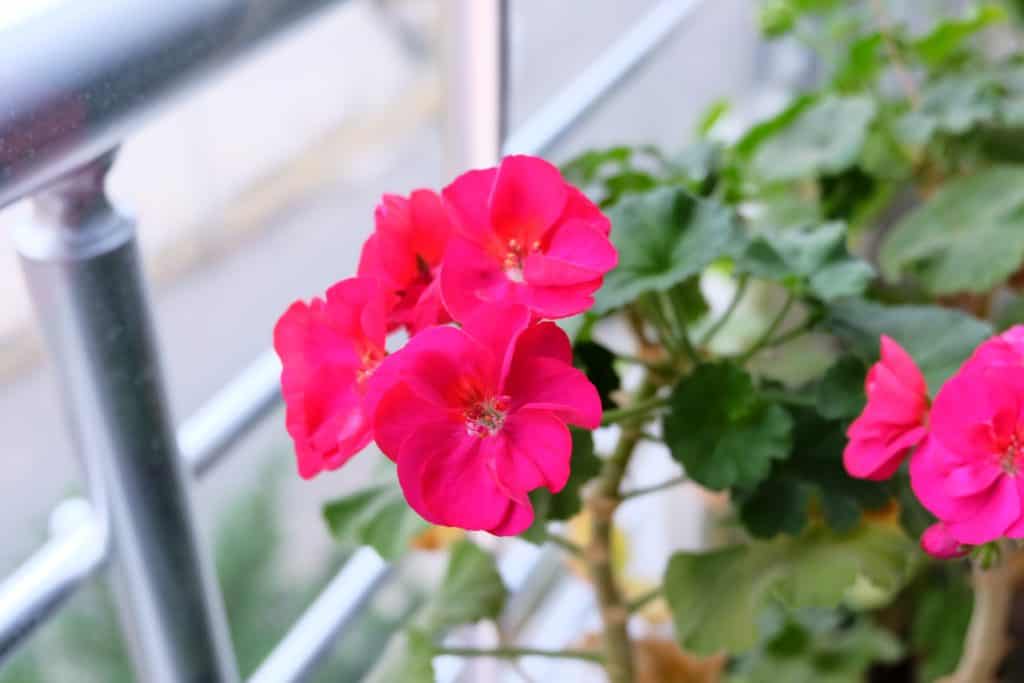 Along with looking great, plenty of flowers have intense aromas that can make your balcony feel much more inviting. Better still, most scented flowers are really easy to grow in pots. Some of the best include:
Jasmine (also great for privacy; provides evening scent)
Tobacco plant – night-scented
Primrose
Lilac
Of course, if growing scented flowers isn't practical, consider hiding some diffusers or scented candles that mimic these. Sweet peas is one of the best choices that screams summer.
6. Add some beach vibes
If you feel like going all-in on your summer balcony décor ideas, why not bring some beach vibes to your space? A sandbox might be overkill, but there are plenty of other ways to hint at the beach.
For example, blue and white striped cushions are a typical beach design. Also, consider adding some driftwood décor, a jute or seagrass rug, and even a candle lantern filled with pebbles.
7. Overhaul your furniture
Your outdoor summer décor shouldn't stop at accessories (although summer rugs can be great!). If you don't already have seating for your balcony, make sure you get some in time for the warmer months.
What you use really depends on your overall style and intended comfort. For example, an outdoor sofa can be great but isn't that practical for dining setups.
Folding chairs and tables are a good compromise for balconies, especially smaller ones. Alternatively, you could always build a pallet couch or add a hammock.
Final Thoughts on Outdoor Summer Décor
Hopefully, these summer balcony décor ideas are enough to push you in the right direction. Summer is all about color and enjoying the outdoors, so make sure your balcony is prepped for warm evenings spent with a cocktail in hand!