Faux balconies can be tricky spaces to decorate, especially when they're part of large apartment complexes. Often times, they're left completely bare even though there are a few cool upgrades that you can easily make.
In this article, we'll discuss the general decorating challenges for apartments with faux balconies, and we'll offer some tips for getting around them. We'll also go through a faux balcony makeover that we did in 15 minutes and for under $15.
What is a Faux Balcony?
While the terms "faux balcony" (or "false balcony") and "Juliet balcony" are often used interchangeably, a faux balcony is slightly different in that it refers to a type of Juliet balcony without any flooring. These class of Juliet balconies are more decorative than functional, and are commonly found these days in newer buildings, particularly in city apartments and larger complexes.
Like a true Juliet balcony, a faux balcony is a terrific way to bring the outdoors in, especially in a house off an area like a master bedroom.
In large apartment complexes, however, a faux balcony can sometimes feel like a pointless and bland feature with few decorating options available, especially if you're renting and are bound to strict renter restrictions.
Faux Balcony Decorating Challenges
Here are some of the most common decorating challenges for faux balconies.
No Flooring
As mentioned, a faux balcony only features a railing and has no flooring. There's a small gap between the balcony railing and the building. Obviously, this means that you can't walk out onto the balcony and the only decorating options revolve around the balcony railing.
Limited Railing Access
Limited railing access isn't a universal problem, but we've seen it more often than not in apartments.
While faux balconies may span the entire length of a window and/or door/s, this doesn't mean that you'll have easy access to the entire railing; you might be able to only access half of it, especially if you have a sliding door like in the case that we detail below.
This means that you'll have to eliminate décor options that require full access to the balcony railing.
This was not something we personally realized until trying out different options, which you'll see later on.
Bad View
While a faux balcony can enhance the look of a building from the outside, it doesn't mean that the view from the inside improves as well. In fact, a lot of faux balconies we've seen (especially in large complexes) stare right into neighboring apartments.
Not only does this make for an unappealing view, but it also limits privacy for everyone.
This was definitely a challenge we had, so we sought a solution that would address both of these issues.
Our Faux Balcony Makeover
Finding the Right Solution
We first started our makeover process by narrowing down what we wanted in a solution:
Increase

privacy

and improve view from inside: we could see into neighbors' apartments and vice-versa
Add some color: our view of surrounding buildings was pretty bland
Low budget: since this was for a rental, we didn't see any need to splurge
There are so many privacy ideas out there, and after considering them all as they related to our goals, we figured that faux greenery would be best for us.
We then researched all available options in the faux greenery category. The number of options were overwhelming, and we couldn't find any reviews or customer photos that were specific to faux balconies, so it was hard to feel confident we were making the right decision. So, we decided to test and compare different products within that category. This included:
Faux leaf expandable fence
Faux leaf expandable fence with flowers
Artificial boxwood panels
Artificial ivy garland / fake leaf vines
Testing
Time to see how each of the options stack up!
Before
As a reminder, this is what our space looked like before adding anything.
Option 1 – Faux Leaf Expandable Fence
For this option, we ordered the Verseo Faux Ivy Hedge Privacy Screen, Expandable (1 piece).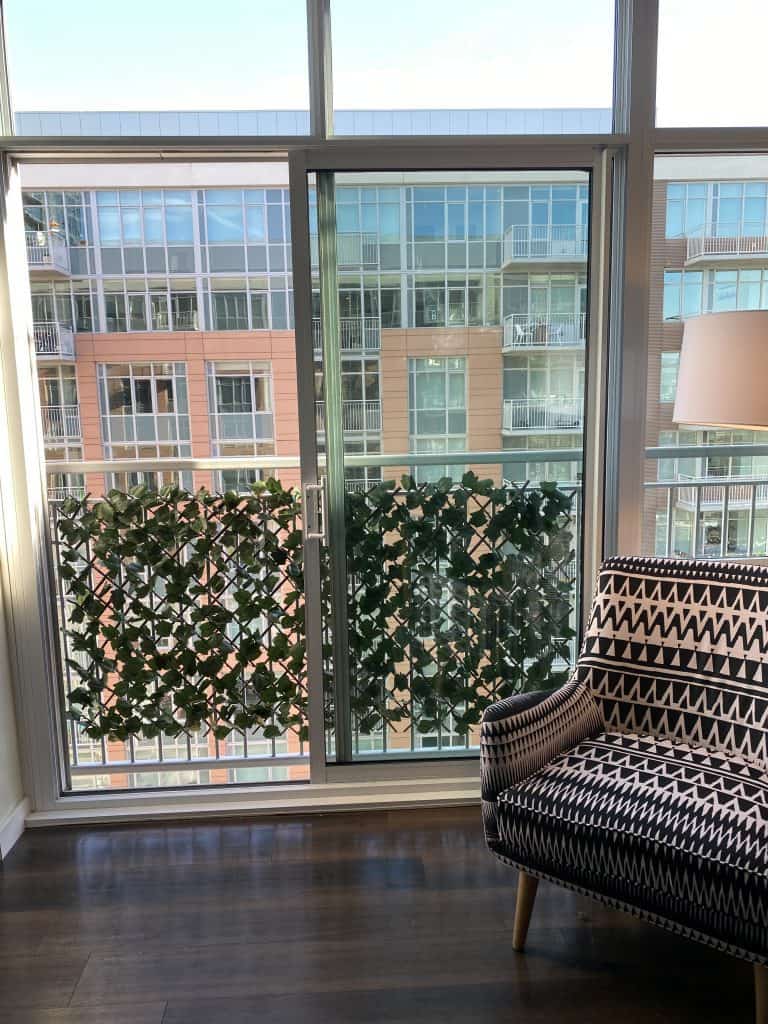 The screen came with zip ties and was easy to secure to the railing. We stretched out as far as possible to secure the zip tie past the point where the door opens, but as you can see, the screen starts to slump a little bit because you'd want to zip tie it at the end.
One thing to note – as the screen expands, it loses height AND you lose privacy coverage. The below photo is with one piece expanded in full. Ideally we would have wanted 2 pieces, but it would be impossible to secure the second screen to the railing because of our limited access.
If you're wondering what it would look like to NOT expand the screen entirely, see below. This provides way more privacy, but you'll need multiple pieces.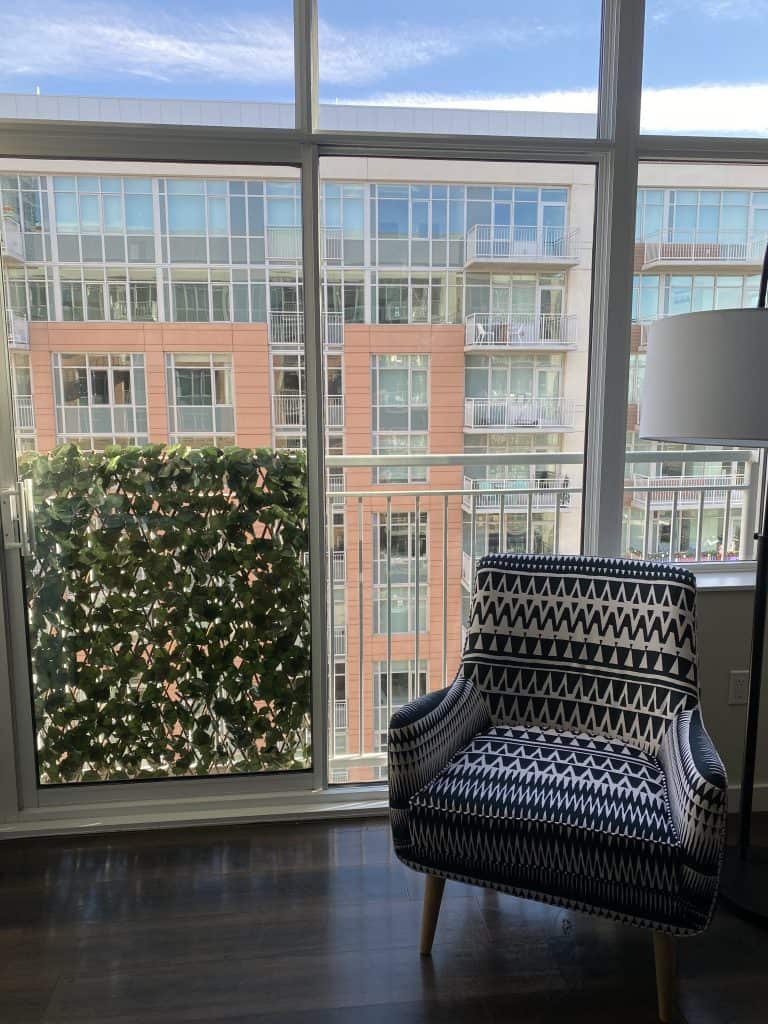 I did like the look of this faux ivy expandable fence. It's very fake looking and a bit unappealing when it comes out of the box, but it looks much better once on the railing.
Option 2 – Faux Leaf Expandable Fence with Flowers
Same idea as #1, but went with a lighter green color with faux flowers. We tried the DOEWORKS Expandable Fence Privacy Screen (1 pack).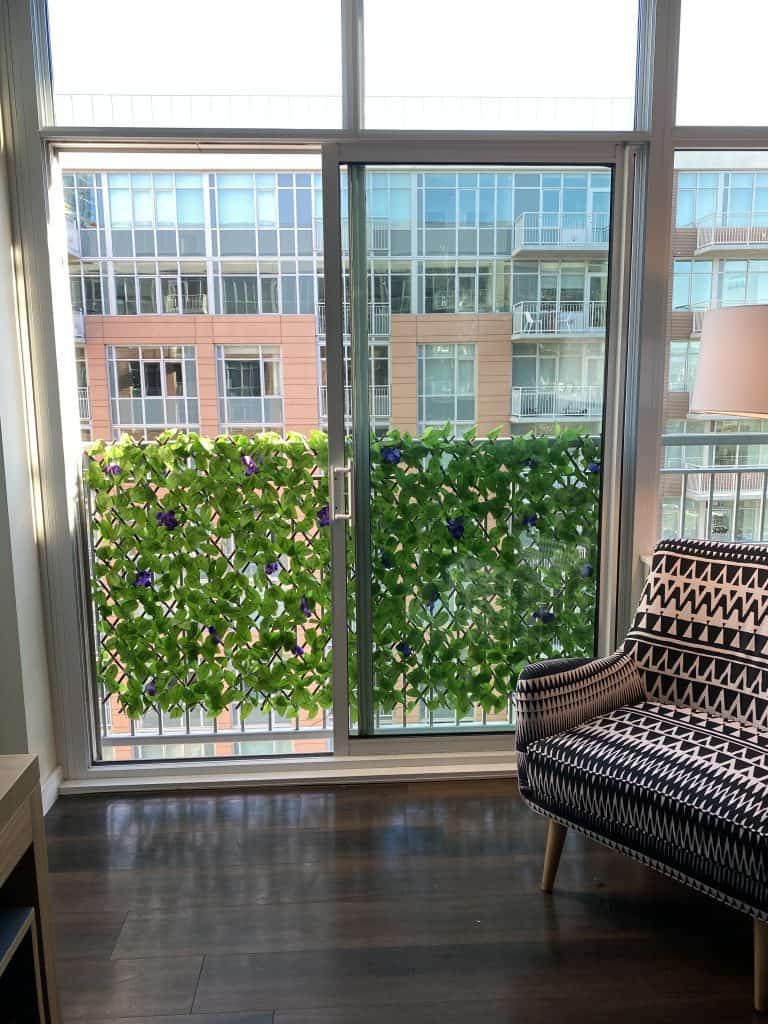 Because this screen is larger than the first one we tried, it does give more privacy coverage with just 1 piece.
But, like the first option, we couldn't expand it as far as we wanted to.
Other than the sizing and color/faux flowers, this screen was exactly the same as the first option. It had the same fake look and feel, but looks much better when on. I also felt that the light green color looks more fake than the darker green in the first option.
Option 3 – Artificial Boxwood
Trying something very different here, we went with flybold Grass Wall Panel Boxwood.
Assembly is very different from the first two in that it comes in a pack of 12 20″x20″ squares that you have to snap together. It does take a few minutes to set up, and honestly the material feels pretty gross against your fingers. If I were to do it again, I'd wear some gloves when assembling.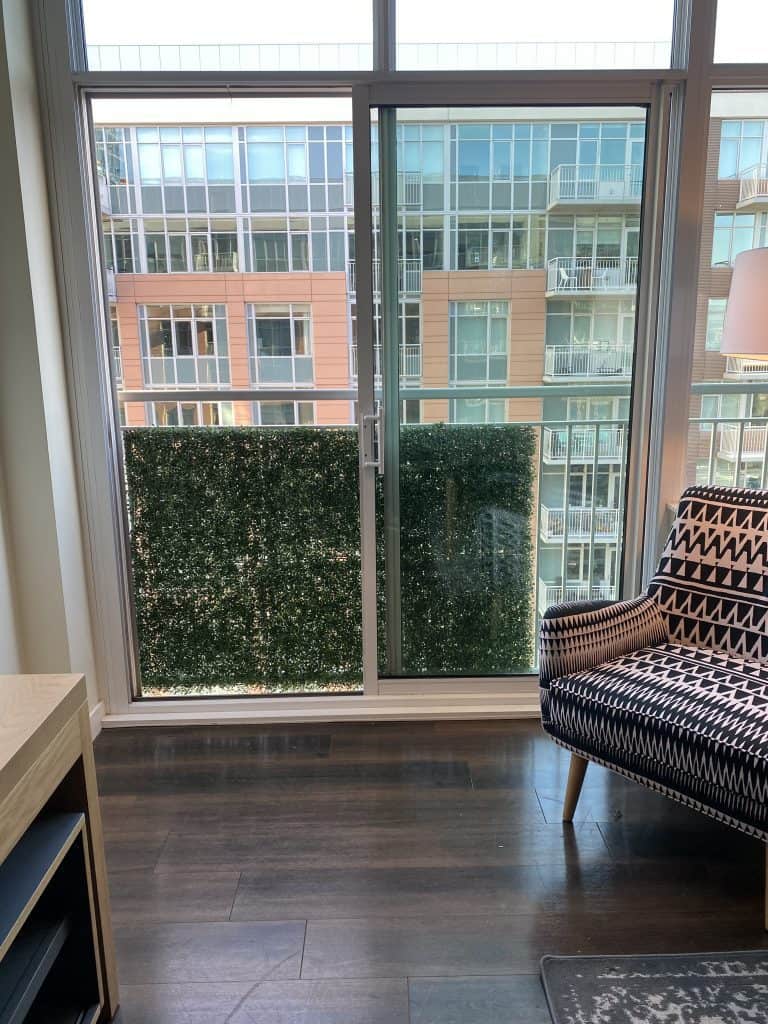 We really wanted to like this option because it provided the most privacy, but it's not a viable option if you have limited outside access. Each of the squares is heavy and needs to be zip tied to the balcony railing – this requires being able to access the entire railing, so it was impossible for us to install it. In the end, we could only set up 3 squares across by 2 squares down.
Option 4 – Artificial Ivy Garland
For this option, we ordered the GPARK 24 Pack / 82 inch (Total 164 Feet) , Artificial Ivy Garland.
The pack comes with zip ties and set up is a little more tedious because you have to hang each strand individually, although if you don't live in a windy area, I bet you could get away with just looping them over your railing.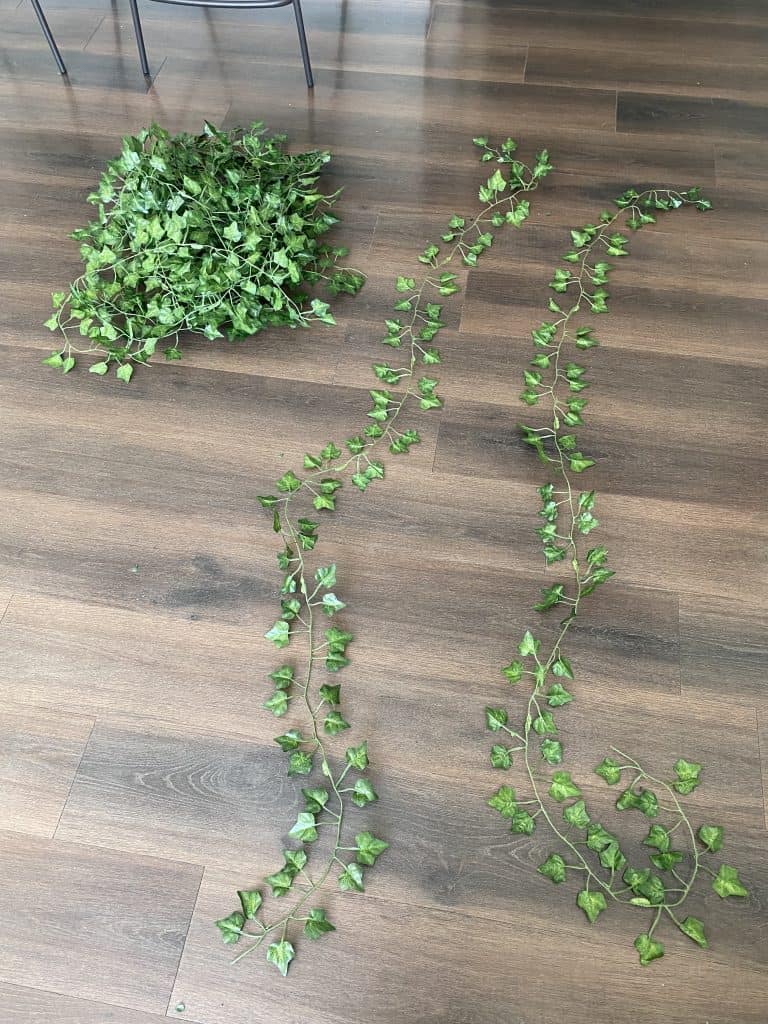 Not only did I like the look of these vines in general, but they didn't feel, smell or look as fake as each of the other options in the packet.
And, more importantly, I was able to cover the entire railing using a little hack with a broom to push them over.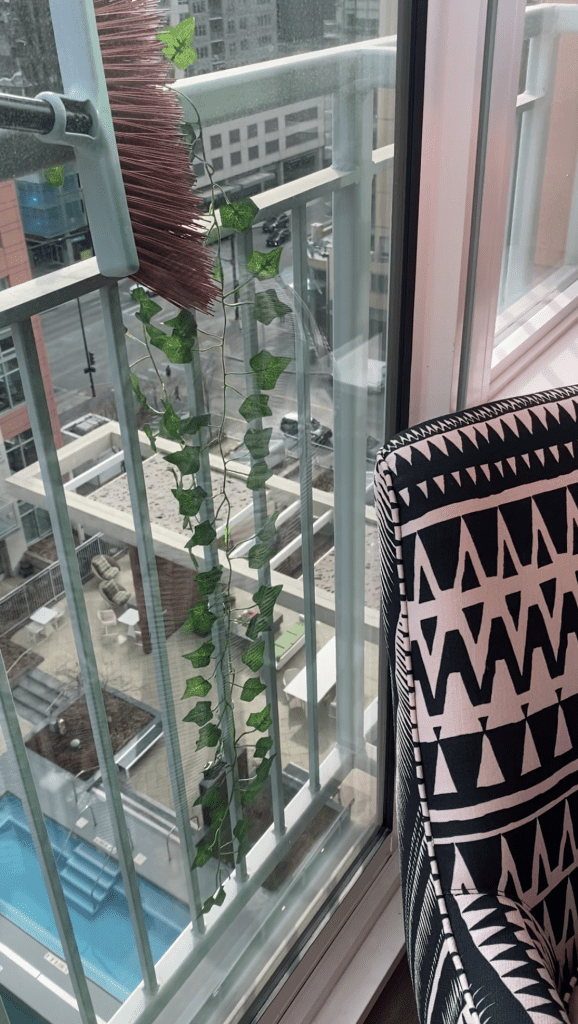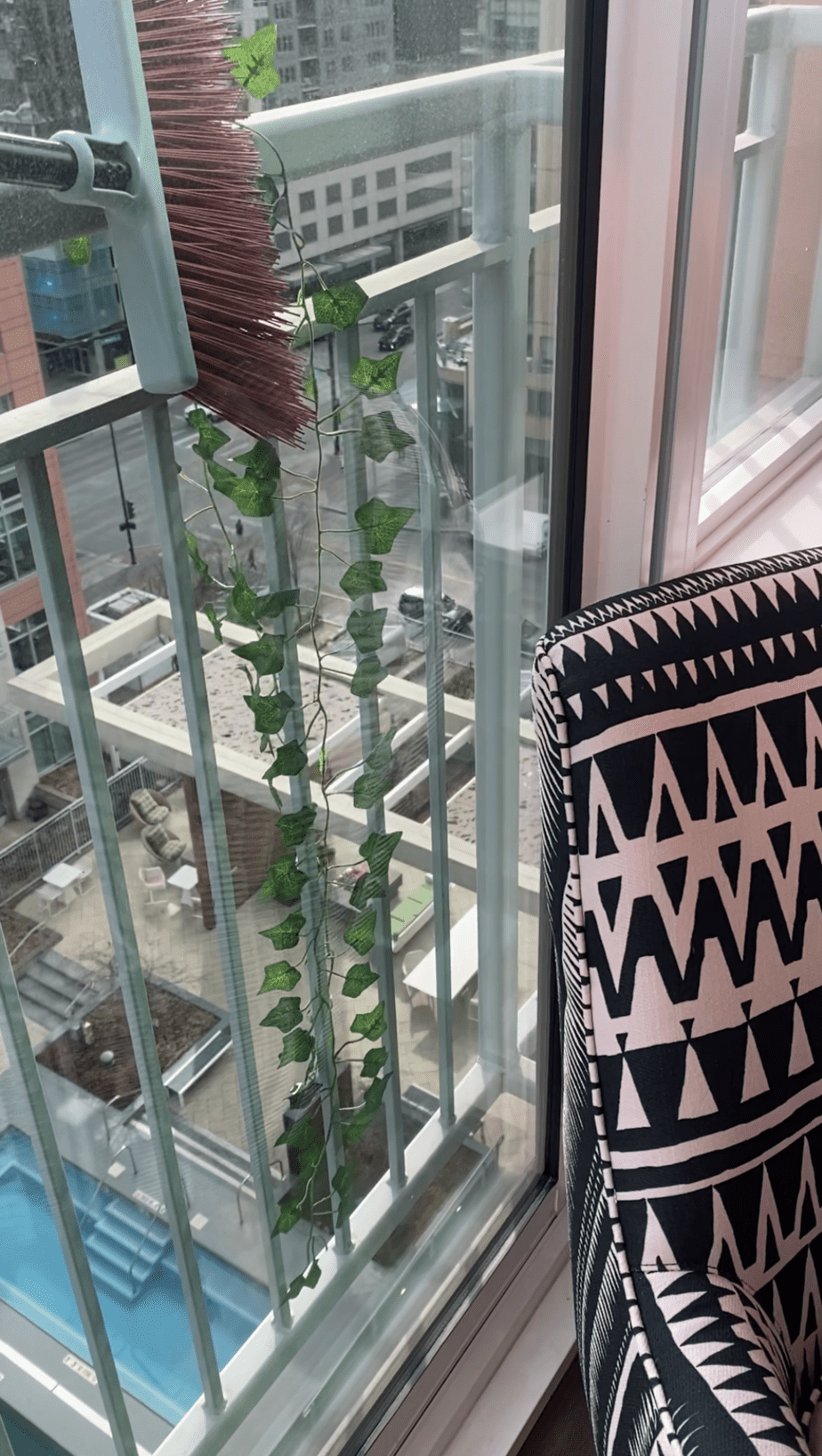 We first tried 12 strands, but coverage wasn't enough.
So, we added 50% more vines (6 more), and really liked the way it looked.
Conclusion
In the end, we liked all of the options as they're each a bit different, but we ended up going with #4 because it met all of our requirements. It:
Added color while also adding a bit of privacy
Looked the most natural of the 4 options
Still let light in
Was super easy to set up
Cost less than $15
Which do you like better?