Balcony Boss is reader-supported. When you buy through our links, we may earn a small commission at no cost to you. For additional information, please view our policies.
Adding an outdoor rug to your balcony is a great idea in the summer. Not only will it keep the floor cool, it'll also help make the space feel more inviting on those long summer evenings.
In this article, we'll suggest 10 of the best outdoor rugs for your balcony this summer. There are picks for large and small spaces and all kinds of décor options.
Of course, before you start shopping, make sure you check out our article on how to pick the correct rug size for your outdoor space. It takes more thought than you might expect!
Top 10 Rugs for Your Summer Balcony Décor
Best All-Round Pick: Spilsby Outdoor Rug
The Spilsby rug is our all-round winner because it ticks almost every box you could have for an outdoor rug. It's made from a material called olefin, which is mold- and moisture-resistant. Olefin is used in everything from wallpaper to carpets because of its strength and ability to hold color.
Also, this rug comes in a massive range of sizes from 2'5 x 4'5 to 8'10 x 12'10. As such, you'll easily find an option for all kinds of outdoor spaces. The geometric pattern suits it to styles such as scandi and boho, and even modern and Moroccan.
Best for Large Balconies: Catrine Outdoor Rug
This rug is a good option for large balconies because of the pattern. It's quite busy, which could be overwhelming in smaller spaces. However, the neutral colors mean it won't be too much on a large balcony or veranda. The pattern should suit boho styles the best, but it'll also work with scandi-style balconies.
It comes in a range of sizes, though, so nothing is stopping you from using it in smaller areas. Also, it's made from 100% polypropylene. While this isn't as resistant as olefin, it should be fine in all but the highest traffic areas.
Best for Small Balconies: Shonkin Area Rug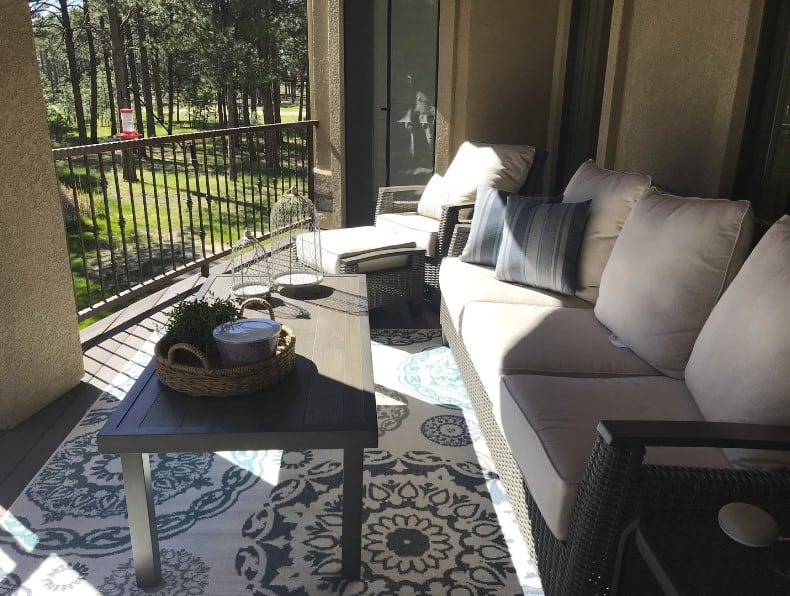 We've picked the Shonkin area rug for small spaces because it has a bold pattern. While this might seem counter-intuitive, a big pattern like this holds up well in smaller areas. Unlike something small and geometric (like the Catrine), you shouldn't find this one overwhelms your space.
It comes in 4 different colors, which range from neutrals (black or cream) to louder options (navy or red). All are made from olefin and start at 2'5 x 4'5. Of course, you will be able to find smaller outdoor rugs than this, but it's a good balance of style and size.
Best for Boho Balconies: Roseglen Area Rug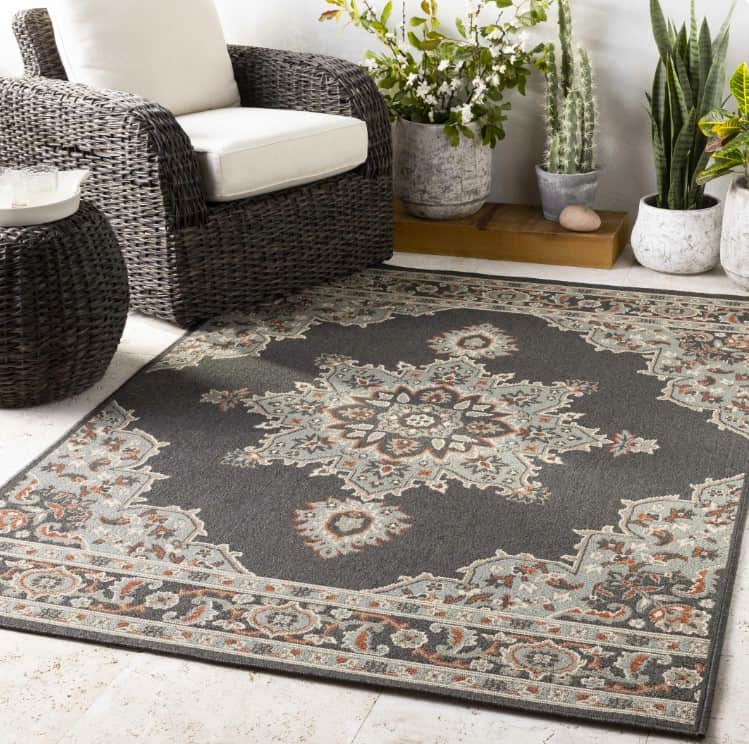 This Roseglen rug is ideal for boho-style balconies because it looks similar to a Persian rug. A key part of the boho style is eclectic patterns and colors, which this rug nails. The weave is strong, and it comes in a range of colors, too.
Like the Spilsby rug, it's made from olefin, meaning it'll be fine on uncovered balconies. While it comes in small sizes, it might not be the best option for a very small balcony. It could look very busy, particularly if you already have a lot of patterns and decorations.
Best for Tropical Balconies: Liberal Area Rug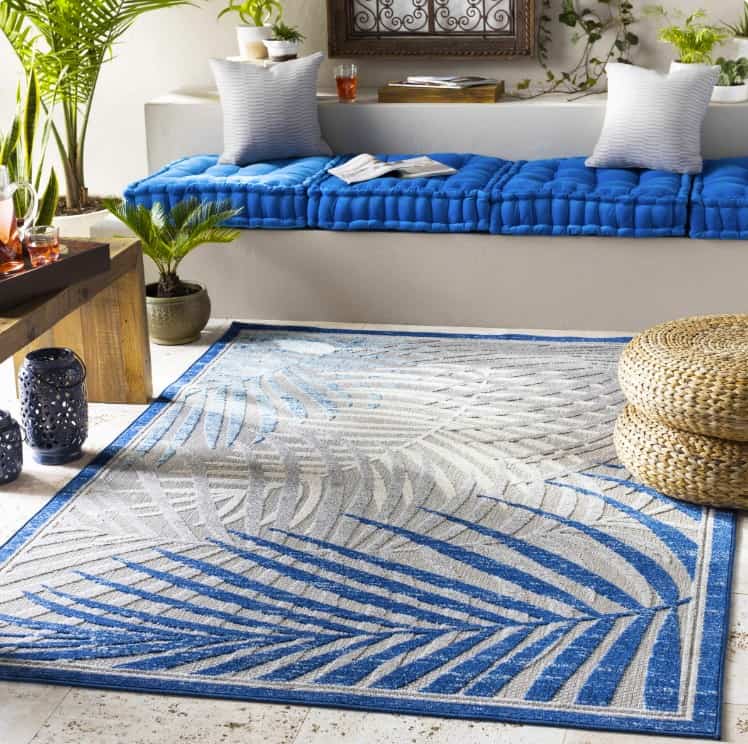 Blue might not be your first color pick for outdoor spaces, but one look at the pattern on this Liberal area rug and you'll see why it'll work with tropical décor. The pattern is large palm leaves, which are woven onto a jute-style backing. All the materials are 100% polypropylene, but it's got a nice 3D look.
The pattern and weave mean it'll be right at home among plants and natural accessories, such as jute, seagrass, and more. It comes in a wide range of sizes, and you can pick from rectangular or runner shapes. If you want a similar design but in more tropical colors, the Utopia is a good pick.
Best for Modern Balconies: Coonamble Outdoor Rug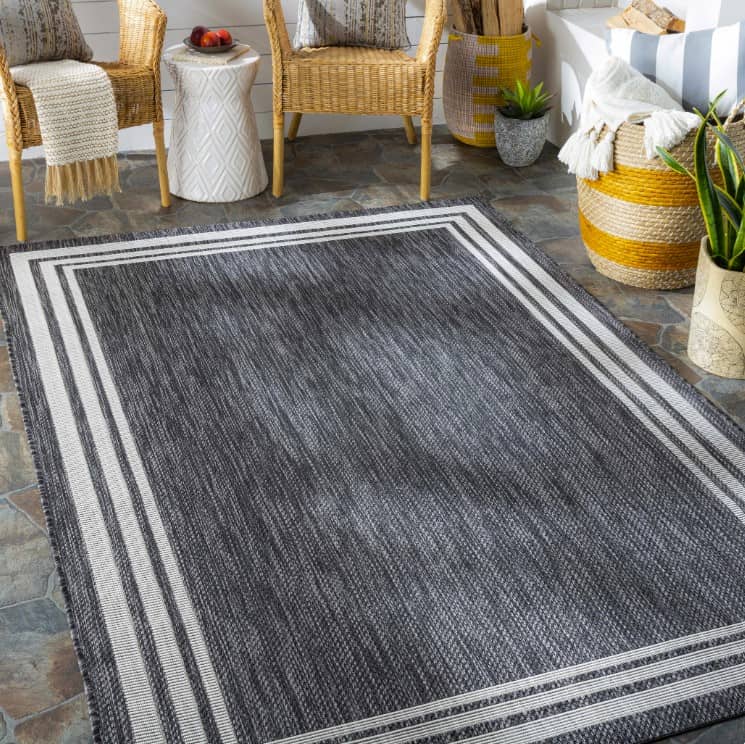 While we all probably have different opinions of what looks good in modern spaces, the Coonamble rug should work for most people. It's mostly charcoal in color, so will contrast well against light walls. Also, its pattern is hardly a pattern, so it won't be too busy.
There are plenty of size options available, and its muted tones mean it'll look great in both large and small spaces. You also have plenty of shapes to choose from, so you shouldn't have difficulty picking the perfect one for your modern balcony.
Best "Out There" Pick: Alderbury Area Rug
Leopard print might not be for everyone, but this Alderbury area rug is a great way to liven up an otherwise muted balcony. There's not much more to say about the pattern, as we all know what leopard print looks like. Luckily, this rug isn't too bold in its color choices, meaning it's not too loud or garish.
It's fine to use indoors or outdoors because it's 100% polypropylene. You could incorporate it into many different styles, from tropical to boho. In fact, we use it in a Get This Look post, so check that out for some styling tips.
Best Multicolor Rug: Briarcliff Area Rug
This rug is pretty loud, but in the best way. It mixes navy, orange, pink, blue, and cream in an exciting geometric pattern. What's more, it's made from recycled PET yarn, so is a good environmentally-friendly option.
The colors could make it difficult to style, but it'll work well in brightly-colored spaces. Also, the pattern would look fine with boho balconies, and you could work it into a tropical-themed space if you were careful.
Best for Plain Spaces: Patterson Outdoor Rug
If the Briarcliff is a bit too loud for you, but you want to brighten up a plain balcony, the Patterson could be the right pick. It still uses a mix of orange, yellow, blue and green, but it's a bit more understated. What's more, the background color of camel is the most dominant, meaning it's not too overwhelming.
Like the Liberal rug, the pattern is almost 3D off the backing, adding some texture. It would look good on balconies that are predominantly white or cream, as it'll add a good flash of color. Note, though, that the colors aren't as bold as you might think, but this isn't always a bad thing.
Best Budget Pick: Beresford Outdoor Rug
This outdoor rug is a surprisingly cost-effective option. It comes in a range of sizes, the smallest of which is 3'6 x 5'6. What's more, it's made from 100% recycled yarn, meaning it's a good choice for the environment.
The color and pattern mean it'll suit most styles, particularly boho, scandi, and modern. The PET material means it's safe to use outside as it's waterproof.
Final Thoughts
Hopefully, one of these choices will suit your outdoor rug needs this summer. Of course, there are so many other options out there, so, if nothing else, use this list as some inspiration to figure out what'll work best.