Balcony Boss is reader-supported. When you buy through our links, we may earn a small commission at no cost to you. For additional information, please view our policies.
One of the best ways to upgrade your apartment's outdoor space is with some new balcony flooring. Ideally, any changes should add practical and visual benefits to your balcony.
And that's exactly what we discuss in this post. We cover some of the best balcony flooring ideas to liven up your space.
We'll discuss each item in detail and go over the pros and cons for each!
Balcony Flooring Ideas
1. Paint
Painting is one of the easiest things to do and will hopefully give you plenty of color choices. Better yet, it's one of the best waterproof balcony flooring options – providing you use an exterior paint, of course.
While there's no such thing as balcony floor paint, you can use any exterior paint suitable for the flooring material. You'll find options for concrete, wood and metal.
To change the color, simply mix in some leftover interior paint. Just be sure they're the same type, e.g. both oil-based or both water-based.
How to Paint a Balcony Floor
Remove everything from your balcony.
Brush the floor down with a stiff broom and wash thoroughly.
Once it's dry, apply the paint using a large brush or roller.
Apply other coats for more even coverage.
Give it a day or two to dry and you can redecorate your balcony.
You can maintain a painted floor by sweeping it and washing regularly. Exterior paint is far more hardwearing, meaning you shouldn't need to repaint it for a good few years.
If you fancy getting creative, you could stencil designs on the floor using spray paint. Check out this video for more information on how to paint tiles on a patio.
Painting is one of the few balcony flooring ideas on this list that isn't suitable for renters. As you can imagine, painting is fairly permanent. That said, check with your landlord, as they might be happy to let you paint if you then paint over it when you leave.
Pros
Plenty of color options
Easy to do with minimal materials
Exterior paint is hardwearing
Cons
2. IKEA Runnen Tiles
IKEA's Runnen Deck Tiles are super easy to install. They're made from acacia wood with a polypropylene base. This means you can stain or paint them any color you want. It might be best to do this before installation so you don't spill paint.
A standard pack covers 8.72 sq. ft., so be sure to measure everything first. Runnen tiles are ideal for giving the impression of wooden decking without expensive structural adjustments.
You'd be best to install them on a concrete balcony rather than wood. There's little reason why you'd want balcony wood flooring over an existing wooden balcony, unless you're creating a feature.
As you'd expect, IKEA provides instructions. They're pretty simple: click the tiles together. You can cut them to size as needed, too.
Pros
Plastic base makes them durable
Pretty much designed for this purpose
Inexpensive
Cons
Not great for awkward-shaped balconies
3. Artificial Grass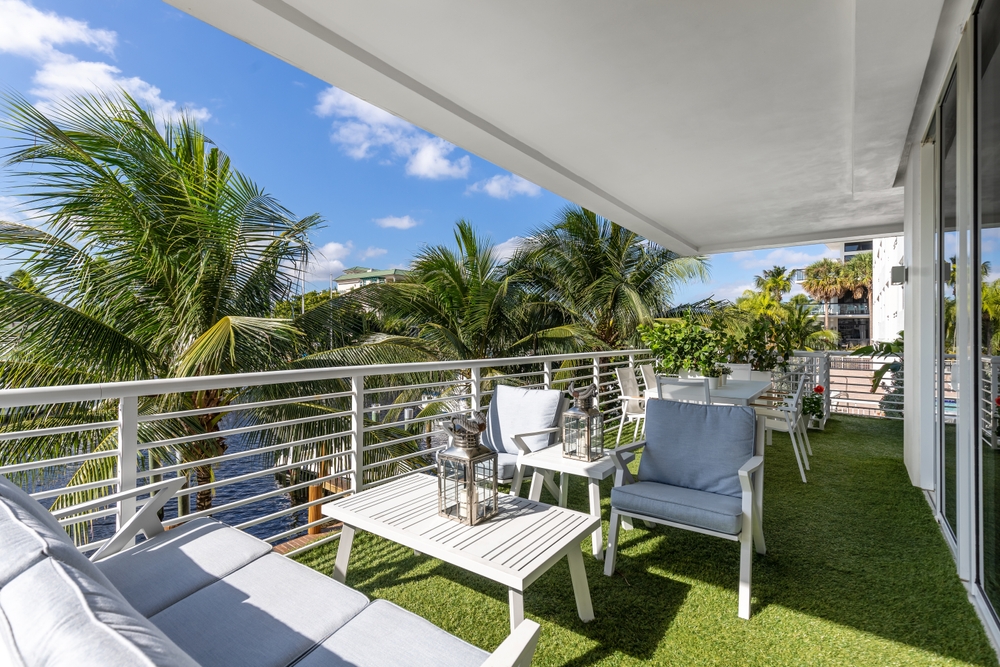 Artificial grass is a great way of simulating greenery and is one of the better waterproof balcony flooring options. There are hundreds of options for artificial grass, ranging in texture, color, height, and more.
Artificial grass goes best on a concrete balcony, as you need to fit underlay and adhesive. You can lay it on a wooden balcony, but you need to allow for room underneath so the wood doesn't get wet and rot.
You'll need some seam tape to join the sheets together, and try to use as little glue as possible. It impacts balcony drainage, which can make everything rot.
Method
Measure your balcony flooring so you know how much artificial grass to buy.
Sweep and clean the balcony floor ready for application.
Lay out the sheets of grass and cut to size.
Join the pieces together using seam tape.
Glue around the edges but leave small gaps so water can drain out. Be extra careful when gluing edges around doorways to avoid trip hazards.
Press down the edges for a better bond and leave to dry.
If you're looking for a more renter friendly option, you won't want to use the gluing method. Instead, consider buying interlocking artificial grass tiles or check out our artificial grass guide for instructions on how to lay artificial grass using only tape.
Pros
Ideal for adding some greenery
Easy to maintain
Can be adapted to suit renters
Cons
Not suitable for wood balcony flooring
4. Rubber Tiles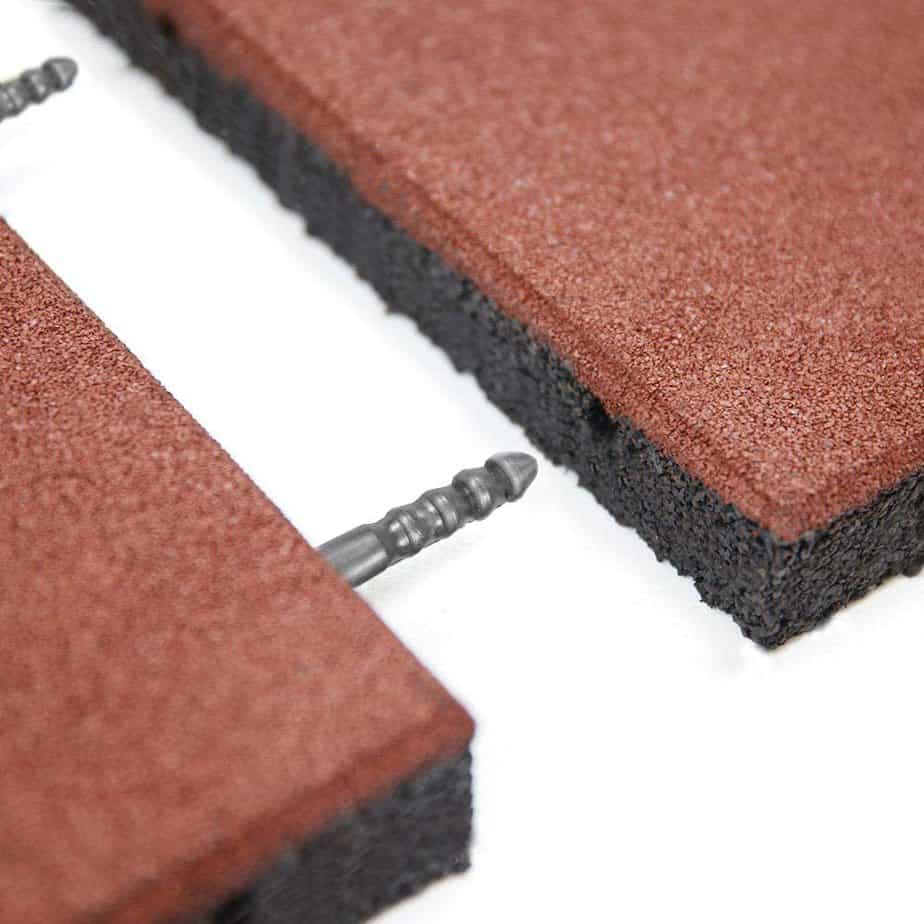 While rubber tiles might not be one of the most attractive balcony flooring ideas, they're certainly practical. Interlocking rubber tiles are great if you have kids or pets, as they provide a soft surface for playing.
They're both water permeable and non-slip, making them suitable for all weather.
You can apply them to any kind of balcony with little issue. This is because they don't need sticking to the surface – they simply lock together.
If you're not too keen on the look, consider laying a rug over them. Alternatively, you could get the kids to paint them with acrylics.
Rubber tiles are super easy to maintain. Brush them down and wash them whenever necessary, and they'll stay looking fresh for years.
Pros
Interlocking tiles are easy to install
Ideal for covered and uncovered balconies
Helpful if you've got kids or pets
Cons
Not the most attractive option
5. Wooden Decking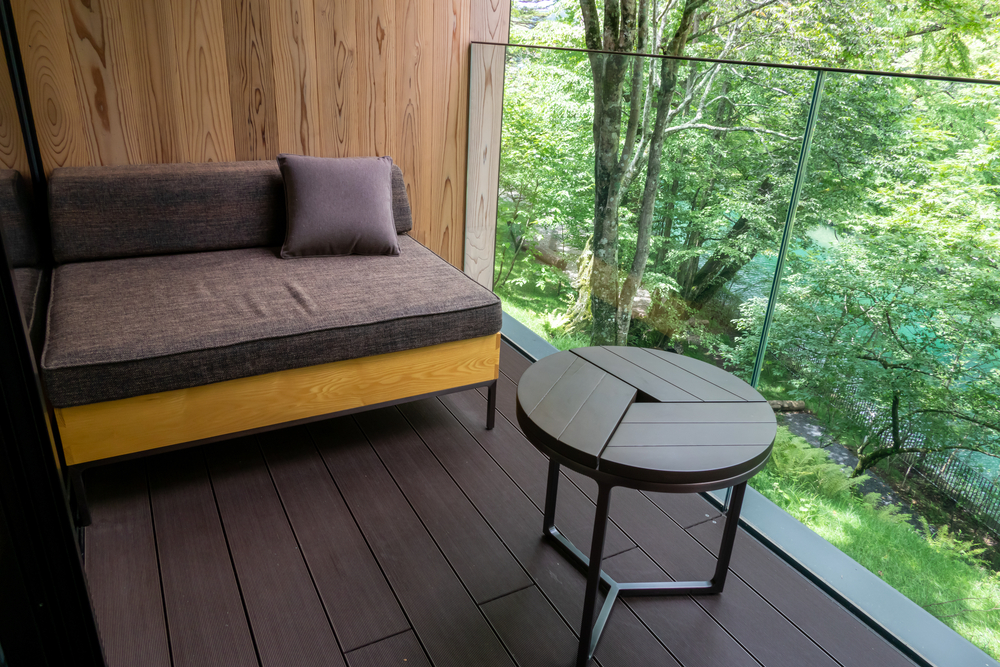 Of all the types of balcony wood flooring, decking is the most classic. Sure, you could fit an actual wood deck to your balcony, but this is both expensive and time-consuming.
A better option is again interlocking tiles. You can buy actual wooden ones or plastic composite. The latter is more hardwearing and require almost no maintenance.
You can lay these tiles over any balcony material, as they don't actually stick down. As mentioned previously, you probably won't be laying them on a wooden balcony though. After all, using balcony floor tiles to cover a wooden deck seems a bit backwards.
Each product should come with installation options, but it's as simple as measuring your balcony and fitting enough tiles. Locking them together is easy and is about all the construction required.
As with other balcony wood flooring, you'll need to treat the tiles every few years. Use a wood stain or paint to keep them looking fresh. Composite plastic tiles only need cleaning.
Pros
Easy to simulate with wood tiles
Tiles aren't difficult to install
You can get wood-effect options made from plastic that are very durable
Cons
Real wood decking will be very expensive
6. Patio Paving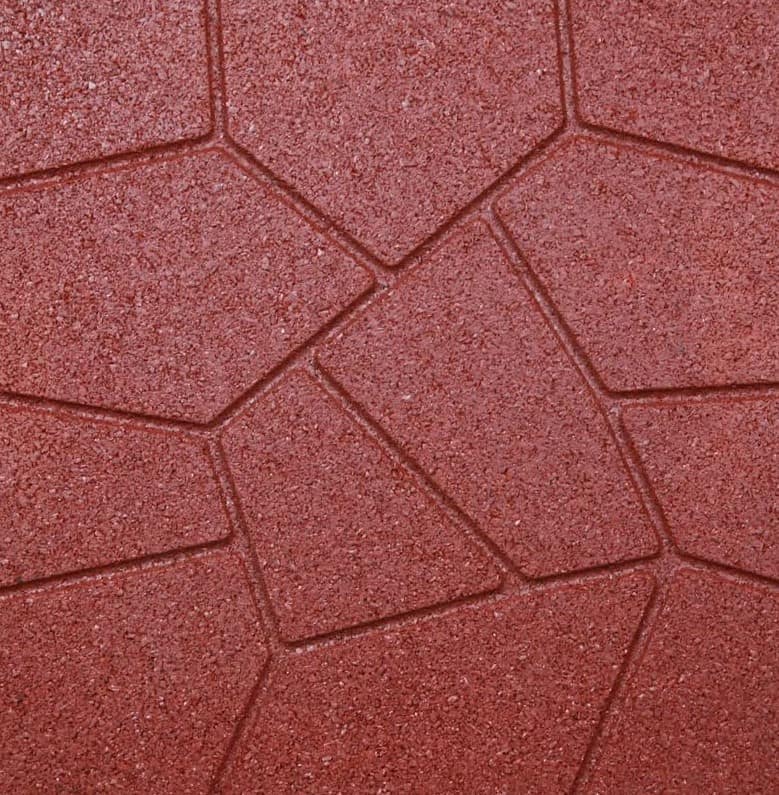 Just in case you needed more interlocking balcony flooring ideas, here's another one! You'll find plenty of rubber patio paving slabs online. They're designed to look like actual paving slabs but are much more affordable.
As with the other interlocking tiles on this list, you simply buy enough and slot them together. The surface is slip-resistant and the base is grooved to aid water runoff.
You can lay them on any kind of balcony, but be careful with wood. The water channels underneath could lead to excess moisture, causing the balcony to rot.
These balcony floor tiles would be great for creating a Mediterranean theme on your balcony. They're designed to look like brick, which you could combine with whitewashed walls and a blue awning.
As they're rubber, you won't have to do much to keep them looking nice. Just brush them down regularly and they'll last for years.
Pros
Slip-resistant – good base surface
Easy to install
Can be installed on any type of balcony flooring
Cons
Won't be suitable for awkward-shaped balconies
7. Outdoor Rugs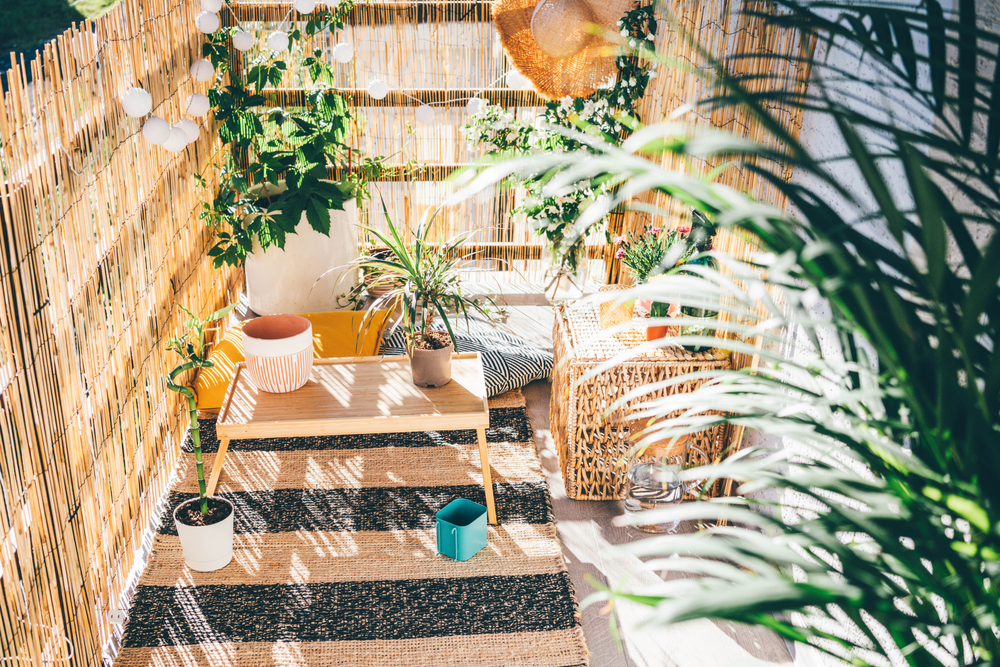 Adding rugs to your balcony flooring is an inexpensive way to brighten up the space. Better yet, you can swap them out depending on the season or your mood to keep your balcony looking fresh and new.
Rugs are also a good choice for renters who might not be able to make any real changes to their apartment.
While any rug would be fine for balcony flooring, it might be best to look for outdoor rugs. These are usually made with weather resistant material so they last a bit longer.
Of course, the beauty of a rug is that you could always just bring it indoors if the weather goes bad!
Rugs are great for adding quick and easy color to your balcony. The type of flooring doesn't matter, as you're just laying a rug on top of it.
Pros
Easy way to add color, texture, and pattern
Outdoor rugs can be very durable
Suitable for renters
Cons
You'll need to bring them inside during persistent rainy weather
8. Pebble Planters
If you want to add a bit more interest to your balcony flooring, consider adding in some pebble borders. This looks great combined with some balcony wood flooring, such as the tiles mentioned above.
Essentially, you just want to run a border around the edge of your balcony using pebbles. It's a simple yet effective way of upgrading your space.
Method
Find some outdoor pebbles roughly 1-3" in size.
Mark out a border around your balcony anywhere up to 1 ft. in width – this depends on the size of your balcony.
Stick the pebbles down using construction adhesive.
Arrange them however you want, but consider leaving the top flat so you can put plant pots on top.
Rather than leaving the top flat, consider leaving gaps the size of plant pots in the border. You could even leave a completely empty space on one side of your balcony, build up a plant section, and then border it with pebbles.
One of the best things about pebbles is that you can paint them any color. While white adds the most pop, there's nothing stopping you from going as bright or dark as you want.
Pros
Super easy way to add more interest
Pebbles are very cheap (or free)
You could paint the pebbles to add extra color
Cons
It might be difficult keeping them in the right place
9. Porcelain Patterned Floor Tiles
One of the fastest and most stylish ways to add some flair to your balcony floor is to add some porcelain floor tiles to your space.
Most porcelain floor tiles are safe for outdoor use and come in a variety of patterns, shapes and colors, so you can match them to virtually any aesthetic.
Similar to other options on this list, you will need a clean and level surface to work with, so these will work best when placed over concrete flooring, or you'll need to level any uneven areas on the flooring.
Every product should come with installation instructions, but to get an idea of how to lay porcelain floor tiles over concrete, check out this video.
Pros
Useful for adding color and patterns
Suitable for renters
You'll be able to find some cheap options if you hunt around
Cons
10. Pebbles
While the option above focuses on a pebble border, another option is to completely cover the floor in pebbles. It can be a great way to add a rustic, almost beachy feel to your balcony.
You'll only want to do this if your balcony railing has a raised edge (or you have a wall). Without a raised edge, there's every chance pebbles will go flying off! As for the types of pebbles you use, there are loads of decorative options in all kinds of colors.
Pros
Suitable for renters
Flexibility over colors and sizes
Easy to set up
Cons
It could be difficult to set furniture down
11. Stone Tiles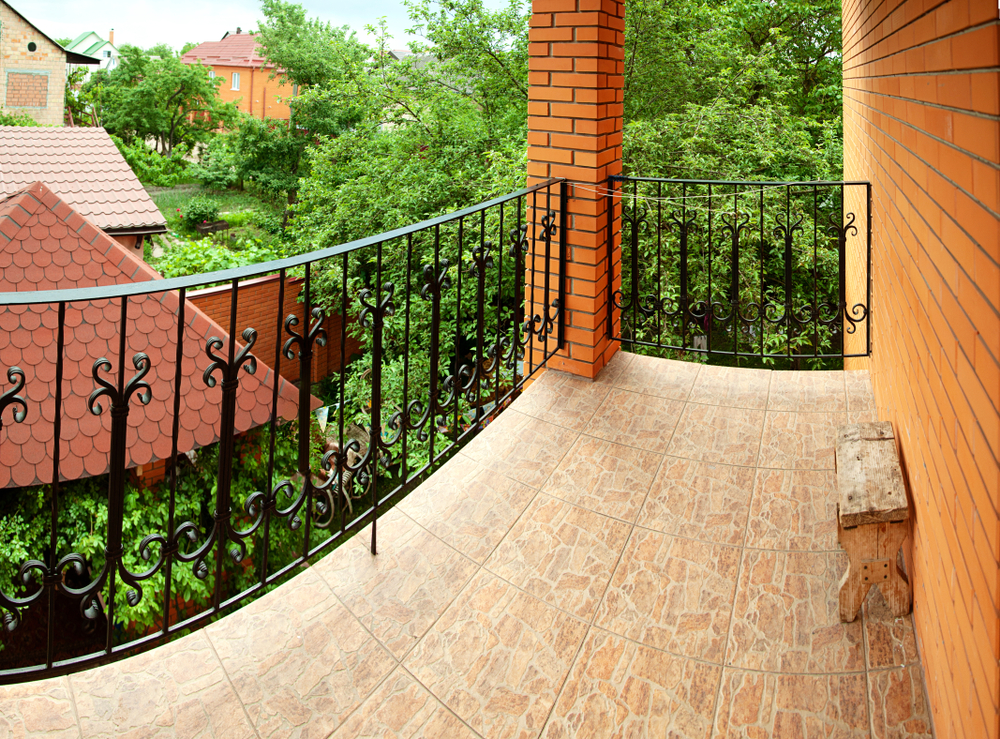 Stone tiles (such as slate or mosaic-style) are ideal for a durable balcony flooring surface. Actual stone tiles can get expensive, and they require proper installation rather than just laying over the existing floor.
However, you can get fake options (like this) that are far cheaper, but obviously not as durable. If you've got the money and the time, real stone tiles are one of the best options for a long-term investment.
Pros
Stone tiles are super durable
Perfect for completely changing the style of your balcony
Not particularly difficult to install if you know how
Cons
Real stone tiles can get expensive if you have a large balcony
12. Oiling a Wooden Balcony
This isn't necessarily a flooring idea but is rather a way to spruce up the existing floor. Timber oil (such as this) will add color and shine to your wood balcony floor while also helping to preserve it.

As we've established, there aren't loads of flooring options you can put over a wood balcony. This is because it needs to be exposed so it can dry out. However, you don't want it to dry out too much, as this can lead to cracking. And this is where timber oil comes in.
Helpfully, it's not too expensive or difficult to use. You just need to empty your balcony, clean the floor, and then apply the oil. Do this every year or two and your wood balcony floor will stay looking fresh for years.
Pros
Inexpensive option for revitalizing wood flooring
Easy to use
Different color and stain options available to help mix up the look
Cons
Obviously won't change your balcony's appearance as much as a completely new floor
13. Floor Stickers
If you've got a flat balcony floor and you don't want to put in loads of effort to spruce it up, floor stickers could be a good option. There are plenty of styles available with a bit of hunting, many of which center around stones and grass (such as this).
You could achieve a similar look using stone tiles and artificial grass tiles, but we've basically covered those options above.
To use stickers, you'll need a flat floor on a covered balcony. Bear in mind, they won't always be UV-resistant, and it's likely they won't be super durable either.
Pros
Ideal for adding brightness and color
Plenty of styles available
Not difficult to apply
Cons
Won't be the most durable option
14. Gravel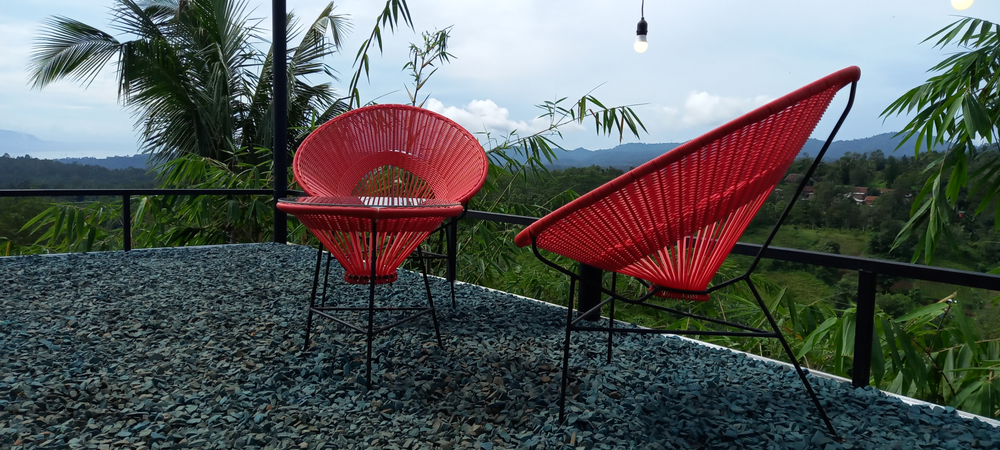 Gravel is another great option for making your balcony feel like the "proper" outdoors. Better yet, it can be super cheap and it's really easy to lay down. As with the stones mentioned above, ensure your balcony has a raised edge or wall.
You'll find it easier to set down furniture and decorations on gravel, too. Make sure you don't use it on a wood balcony, as you'll usually put a membrane underneath it, which could cause the wood to rot.
Pros
Good way to get an outdoor look
Easy to lay down
Inexpensive
Cons
Can be difficult to keep in place
Conclusion
Hopefully, you've now have some inspiration for some interesting balcony flooring ideas. There are plenty of waterproof balcony flooring options if your space is open, but you've got other options if it's covered.
Whatever you choose, there's no reason why upgrading your balcony flooring should be expensive. Shop around and plan it out, and you'll find some great ideas.