Balcony Boss is reader-supported. When you buy through our links, we may earn a small commission at no cost to you. For additional information, please view our policies.
Balcony walls are small surfaces with a ton of potential. Whether you're looking for a quick, easy way to decorate your balcony wall or you're looking for a more complex DIY project to transform your space, we've got you covered with these 12 ideas for balcony wall décor.
1. Wall art
Perhaps the easiest – and cheapest – way to dress up your balcony wall is by hanging a piece of art. This can be a picture frame (with an outdoor weatherproof frame) or a simple art piece.
Hanging wall art on your balcony is also renter-friendly with outdoor damage-free hooks.
2. Paint
Painting is a great way to transform your balcony space and add some character, particularly when you're working with a smaller area and are limited on furnishings and other items.
Painting a balcony can sometimes also be renter-friendly as long as you agree to restore the wall to its original color when you move out.
3. Balcony Wall tiles
As long as it's rated for outdoor use, pretty much any type of tile (including floor tile) can be used to tile a balcony wall. You'll need tile paste to attach the tile to your wall surface OR you can go with an even easier, renter-friendly option by opting for tile wall stickers like in the photo below.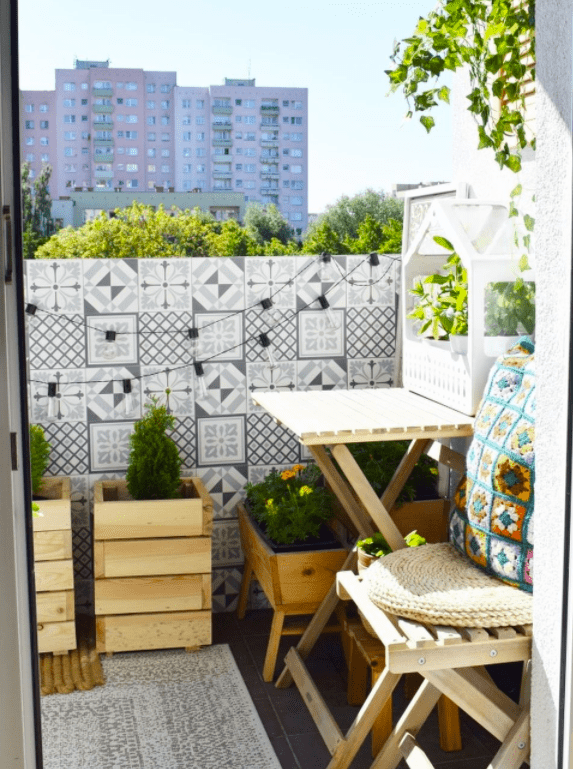 4. Flower wall
A balcony flower wall is one of the more time consuming and difficult balcony wall projects to undertake. But, as you can see, it can be a beautiful addition to any space.
There are many ways to build a flower wall, and you can google DIY videos on how to build one. If you're looking to get this look but with minimal effort, you can also look at buying a vertical green wall system like this one.
5. Curtain wall
Curtains can perform many functions on a balcony. They can be used for privacy or to block out sun, and they can also be used as a very stylish decorative piece on a balcony wall. Of course, make sure that the curtain you select is outdoor-friendly and weatherproof like this one.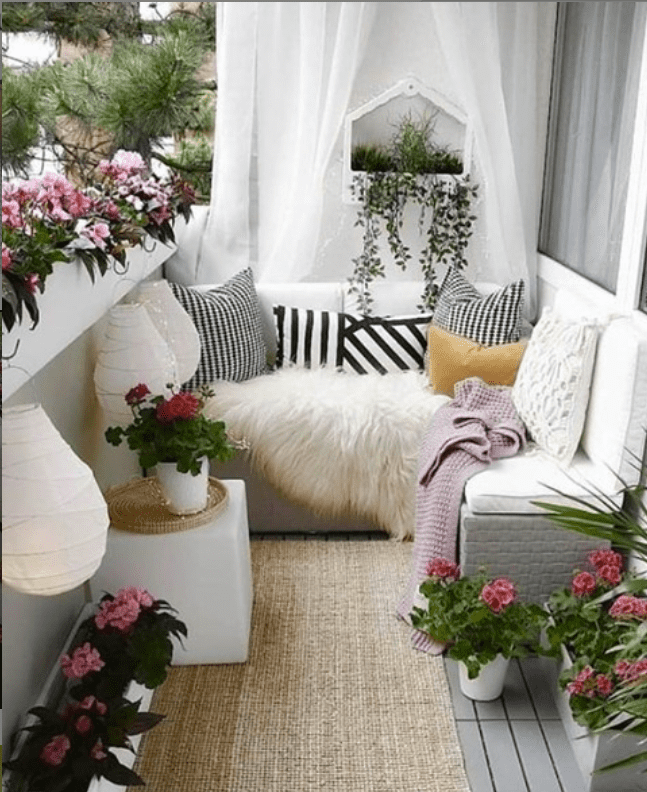 6. Trellis
A trellis is a simple yet impactful way to dress up a balcony wall, especially since it can be painted any color you'd like, and additional decorations like lights or plants can be added to it. You can buy a trellis in a number of colors and sizes, or you can easily make your own.
As an added bonus, a trellis can also help to elongate your balcony wall (as seen below) and add an additional element of privacy to your space.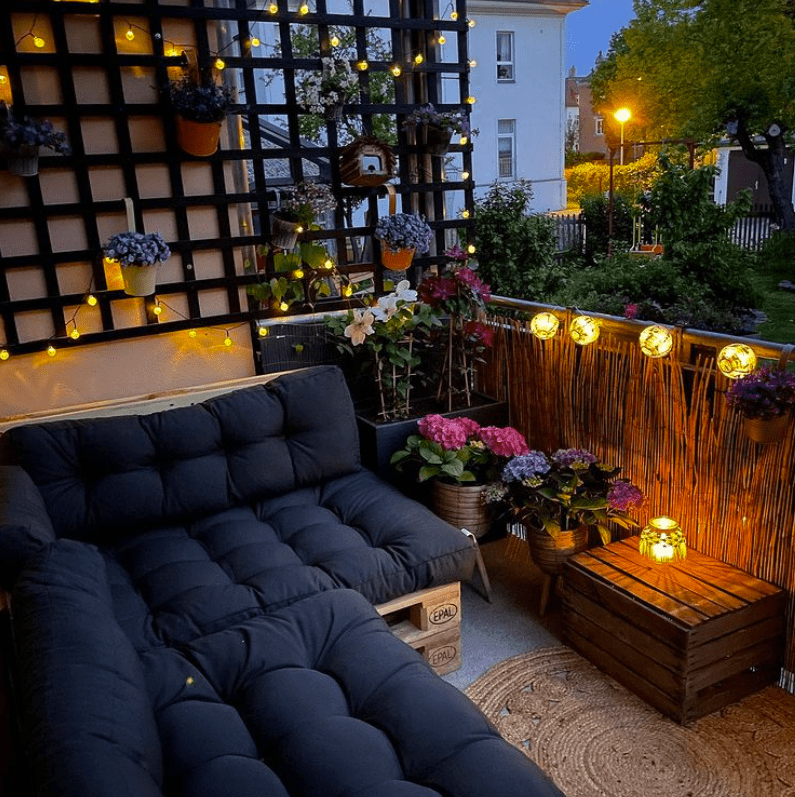 7. Grass wall
A perfect solution for those looking to add some greenery that requires no maintenance. Check out this helpful YouTube video for how to install an artificial grass wall.
8. Balcony Wall planter
If you like the green look but don't want to grow tall plants or create a full-blown flower wall, consider buying a balcony wall planter that easily hangs off the wall.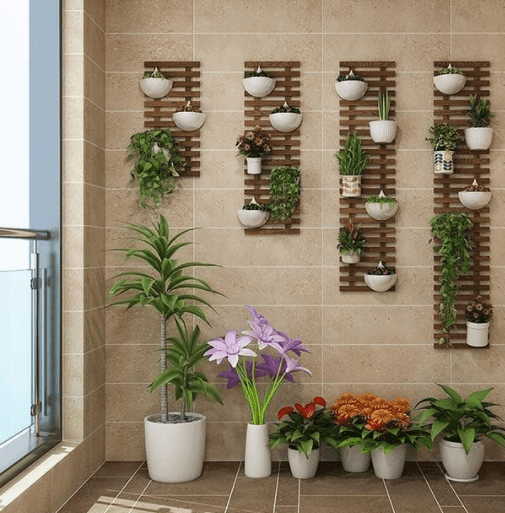 9. Lighting
Most times, you see string lights hanging from a balcony ceiling or railing, but they can also be used to create a statement wall like below.
10. Wall shelves
Wall shelves can be a decorative piece on their own, and the great thing is that you can use them to feature plants or all kinds of different décor items. A word of caution, though, for renters – due to weight, most wall shelves will require some type of drilling and/or nails into the wall.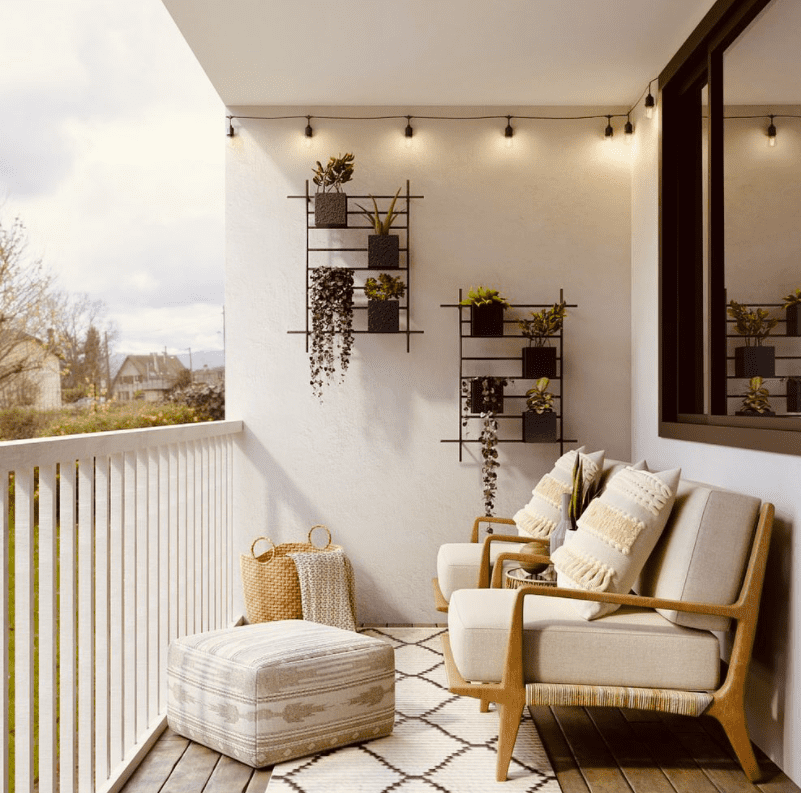 11. Fencing
Fencing isn't just for balcony railings, as it can be used to dress up a balcony wall and create a unique aesthetic to the space. The most common types of fencing to use for balcony wall decor include bamboo fencing, reed fencing and faux greenery fencing.
12. Wallpaper
This option is best suited for indoor balcony spaces, but it's a creative way to dress up a wall and give it some additional character. In the example below, wood wallpaper was used to achieve the outdoor look.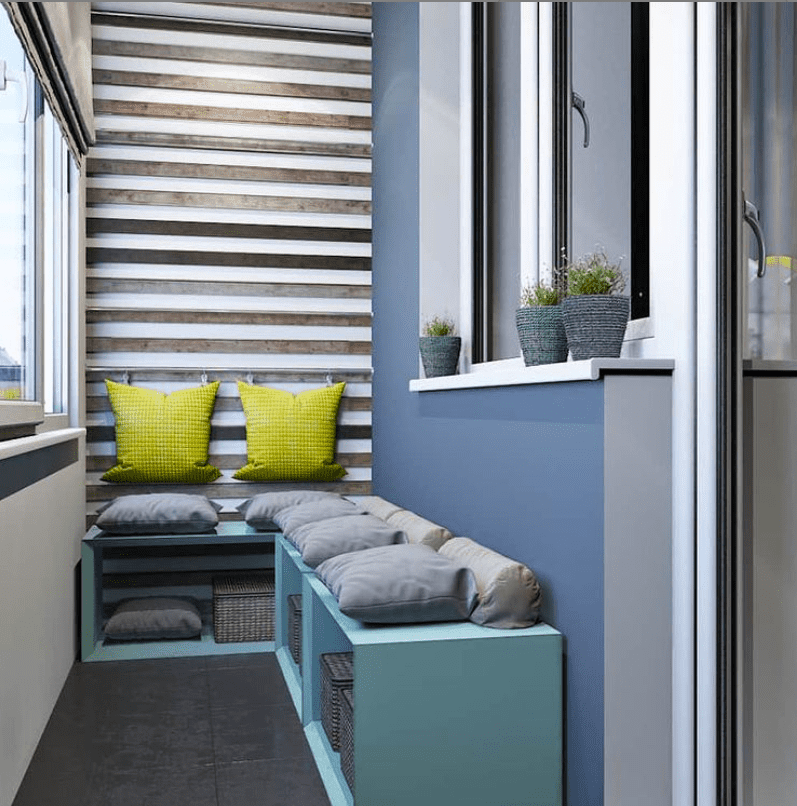 Final Thoughts
Adding some balcony wall décor is a simple, yet transformative solution to any outdoor space. Hopefully we've provided you with some creative ways to update your space.