Balcony Boss is reader-supported. When you buy through our links, we may earn a small commission at no cost to you. For additional information, please view our policies.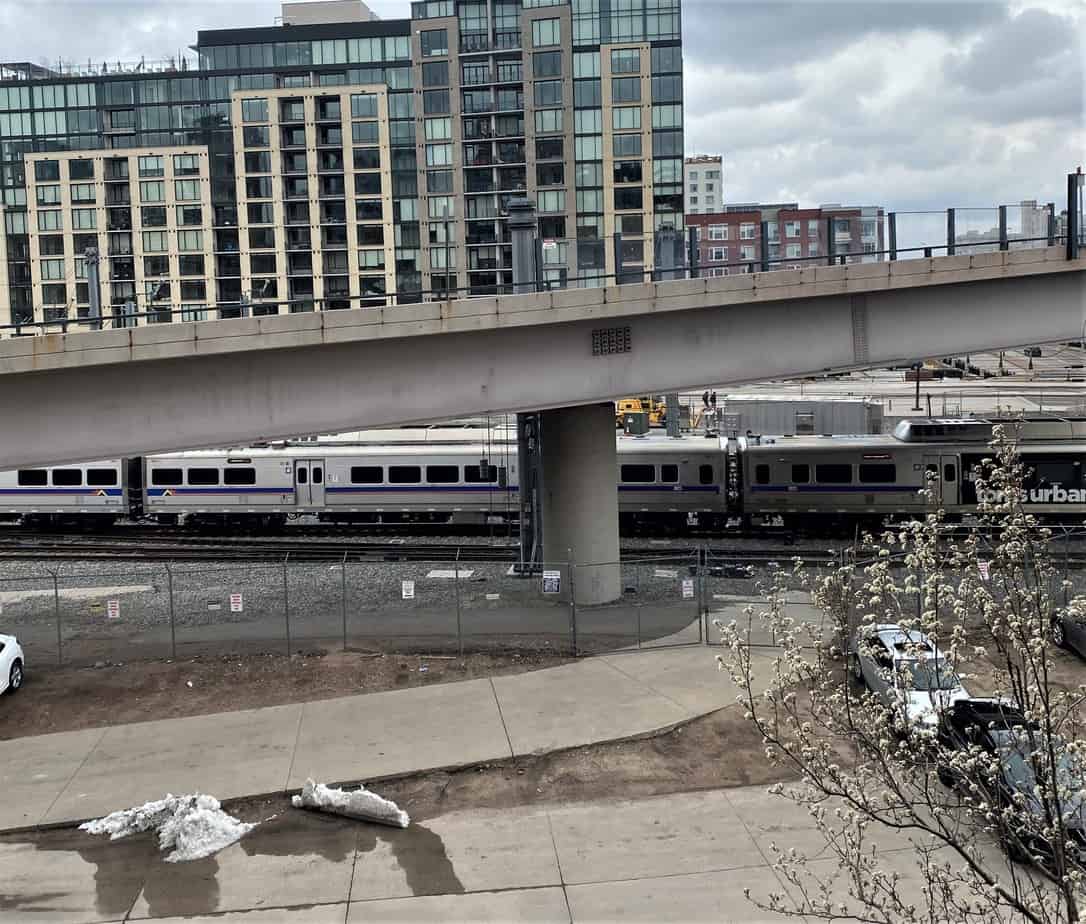 When I moved into my city apartment, I was super excited to finally have an oversized balcony that could fit both a balcony barbecue and a dining table/seating area.
The only thing that wasn't exciting, however, was the incredibly ugly view directly in front of me.
My outdoor space stared straight out at train tracks and a highway offramp that featured a "Danger: High Voltage" sign right down the middle. To make matters worse, the ugly view also extended into my lounge room, which means I kept the shades rolled down often to hide the hideous view from the rest of my indoor space.
While my balcony was a bit noisy from the cars and occasional trains passing by, I wasn't bothered by this much as I was bothered by the bad view, complete lack of privacy (especially when drivers exited the offramp), and general feeling of being too "exposed" when sitting out there. Why would anyone use a space that they find unappealing or makes them feel uncomfortable?
I told myself that I would figure something out, but before I knew it, one year had passed and zero meals had been eaten on my beloved dining table. The only time I stepped foot out there was to use the barbecue.
Every so often I spent time searching for solutions, but this would just lead me down a bunch of Pinterest rabbit holes, and I'd have nothing to show for my hours of research.
Every balcony is different, and even though I came across beautiful spaces and liked many of the options that I found, nothing seemed like it would work for me. After becoming overwhelmed with information overload, I figured my balcony was a lost cause, and I accepted this fact and forgot about it, just like the majority of others that barely spend any time on their balconies.
Then 2020 happened.
There's nothing that will increase your urgency to create usable outdoor space like quarantine and a pandemic. I was determined to figure out a solution ASAP. The first thing I did was decide to take a different approach from before and keep it simple. I was able to figure out my solution that same day, and I believe that anyone can do the same if they keep it simple and follow these easy steps.
How to Find the Best Fix for Your Bad View Balcony
1. Define the Problem
The first thing you'll need to do is identify the biggest problem you have with your space. What's causing you to not use it?
My problem was two-fold: a bad view, which was also creating a complete lack of privacy. I knew that I wanted to hide the ugly view while also creating balcony privacy.
2. Set Your Goals
What are you hoping to accomplish with a solution? I wanted to block the ugly view, but still allow for some natural light to flow through into my apartment.
I also wanted to create an aesthetically pleasing space that would make me want to spend time there.
3. Identify Your Requirements
What are the specific features that you want in a solution? Think about maintenance, location, building restrictions / requirements / HOA rules and how everything aligns with your specific goals.
For me, I was looking for a "set it and forget it" option, so I wanted something as low maintenance as possible. I also live in Colorado, so I would need something to withstand all four seasons and types of weather, including snow.
It tends to get windy here, so I needed something that would be secure and wouldn't blow away in the wind.
I also needed something that wouldn't require drilling for installation as this isn't allowed by my building.
Finally, height was probably the most important thing that I needed in my solution. My ugly view extended above my balcony railing, so I would need something tall to provide sufficient coverage.
4. Compile All Available Solutions
There are a ton of different ways to create privacy on a balcony, but not all will also achieve the dual objective of blocking a bad view at the same time. Write out options that are going to solve your problem/s and narrow down your list from there.
Since I had two problems I wanted to solve, I decided to only consider options that would solve both problems at once:
5. Compare Available Solutions to Your Requirements and Goals
Now that you've narrowed down your options to a short list, think about each solution and how it would work with your outdoor space and your lifestyle. Does it include the overall features you're looking for? Does it solve your overall problem?
My thought process went like this:
Outdoor curtains were not going to work for a couple of reasons.
One, they would need to be closed all the time to cover the bad view, and I wanted something more open.
Two, it snows where I live, and I knew the curtains would quickly start to look dirty if I didn't clean them regularly (which I didn't want to do because I wanted as little maintenance required as possible).
Tall or hanging plants to create privacy is what I originally wanted to do, but I wanted something quick, and plants can take a while to grow.
Lastly, I wanted more of a "set it and forget it" solution where I wouldn't have to do any watering, so this option was out.
A privacy screen seemed to be the best option for me. There are many different types of privacy screens, but after referring back to my features list, I knew that a metal one would be best, so I focused on metal privacy screens only.
I also knew that the most important detail was the height. There are a lot of great options that will cover your railing (usually ~4 feet tall) to create a more private space, but I knew I needed something taller since the highway overpass sits about 2 feet above the top of my railing. So I focused on options around 6 feet tall.
6. Make Your Selection
Once you've completed the above steps, you will land on the best option for you. Now it's time to research products within that category and decide on your favorite.
After researching several options and cross-referencing my goals and features, there was a clear winner.
I had seen this privacy screen many times throughout my research process and really liked the overall look, but none of the brand photos or customer photos showed this privacy screen being used on a balcony, let alone on an apartment balcony. Most photos are in a backyard or around a pool… basically the opposite to my space.
I'm not sure why the lack of balcony photos bothered me, but I think in general it's hard to commit to any purchase that is also hard to visualize. Thanks to all my research, however, I knew this was my best option, so I went for it.
My balcony is extra large, and the highway overpass extends across the entire space. I could have gotten away with buying 3 of these pieces to hide the ugliest views, but I ended up buying 5 privacy screens to cover the full length of the balcony and to create some continuity.
7. Enjoy Your Space (Finally!)
While adding the particular solution I selected wasn't cheap, the outdoor privacy screen I purchased made SUCH a difference to my space, and it completely transformed my balcony.
It gives me the privacy I want, and it also creates an aesthetic look that makes my outdoor space feel like an extension of my indoor space. I now get a ton of use out of my outdoor dining table, especially during the spring and summer!
In even better news, it also transformed the way my indoor space looks, and I can now keep the shades rolled up without worrying about the ugly view on the other side of the screen.
Conclusion
Having a bad balcony view shouldn't stop you from getting the maximum amount of usage out of your space. By following a simple process, you can determine the best solution to your problem and create a space that you love!