Balcony Boss is reader-supported. When you buy through our links, we may earn a small commission at no cost to you. For additional information, please view our policies.
When you only have a small amount of balcony square footage to work with, there's little room for error when it comes to selecting the perfect outdoor furniture for your space.
There are a ton of small balcony décor tips to follow, and one of them is to never over clutter. You want to make sure that you don't stuff a bunch of furniture and decorations into a tiny space, and you also want to make the space feel bigger by keeping the floors clear and tidy.
Ideally, you want to find a piece (or pieces) of furniture that takes up minimal space but also provides comfort, functionality and style.
Let us introduce you to the Acapulco Chair.
What is an Acapulco Chair?
Acapulco chairs are mid-century modern furniture that feature a pear shaped, woven design that is rooted in traditional Mexican style.
They were originally made out of steel frames, but these tended to rust easily, so modern Acapulco chairs are now made from commercial grade aluminum. They are woven with a thin vinyl cord usually made out of nylon, PVC or HPDE to create the seat.
Acapulco chairs have been around since the 1950s, but you've probably noticed them a lot more in recent years. Their popularity has skyrocketed because they pair perfectly with both minimalist and mid-century modern style décor, which have simultaneously exploded in popularity.
7 Reasons Acapulco Chairs are Perfect for Small Balconies
While Acapulco chairs work in both indoor and outdoor settings, you'll mainly find them on patios or balconies, and for good reason. Here are 7 reasons why.
1. Perfect for outdoors
One of the no-brainer requirements for outdoor balcony furniture is that it's weatherproof, especially if you live in an area that sees various types of weather conditions.
Original Acapulco chairs tended to rust (especially in coastal areas) due to their steel frames, but today's aluminum chairs are powder coated to prevent rust from forming.
2. Compact
When you're working with a small balcony space, you tend to want to avoid large, bulky furniture that takes up a good amount of floor space, and Acapulco chairs are exactly the opposite. Three thin legs take up minimal floor space and the simple, geometric design is the opposite of bulky. All of this helps to create the illusion of more space and make the room feel bigger.
Acapulco chairs look great in pairs or by themselves, so if you have a tiny space that can only accommodate one chair, this is still a great option.
3. Stylish
Honestly, who isn't drawn to the style of this chair? It can be a statement piece on its own, and it brings a sleek, resort-style vibe to any space. Who wouldn't want to spend time in a space that looks like this?
4. Comfortable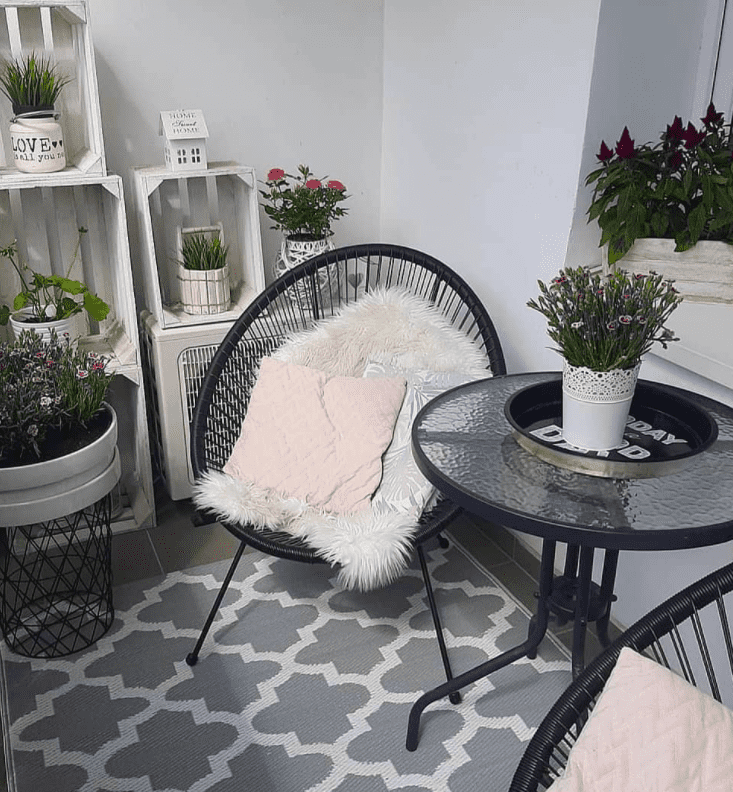 A chair isn't much good if it's not comfortable. While Acapulco chairs might look a little unusual or uncomfortable at first glance, they are surprisingly super comfortable as they feature an ergonomic design and wide seating space. The cords that make up the seat sink slightly as you sit on them, providing an optimal amount of comfort.
5. Durable & lightweight
The metal frames that make up Acapulco chairs are sturdy and reliable, and because they're made to sustain all types of weather, they hold up well to the elements. Of course, it's never a bad idea to cover your chairs when not in use to extend the longevity of your furniture.
These chairs are also pretty lightweight, which is a big plus if you like to mix up your indoor and outdoor furniture often or convert your balcony space for other uses.
6. Versatile / goes with everything
You've probably noticed from the photos within this article that there's definitely not a one size fits all approach to decorating with Acapulco chairs – they literally go with everything, and you can dress them up to match your exact aesthetic.
Acapulco chairs come in a variety of colors and they pair well with cushions, pillows, throws, rugs, fencing, wall décor… you name it. If you add an Acapulco chair to your space, it's highly unlikely that it won't complement your other items.
7. Affordable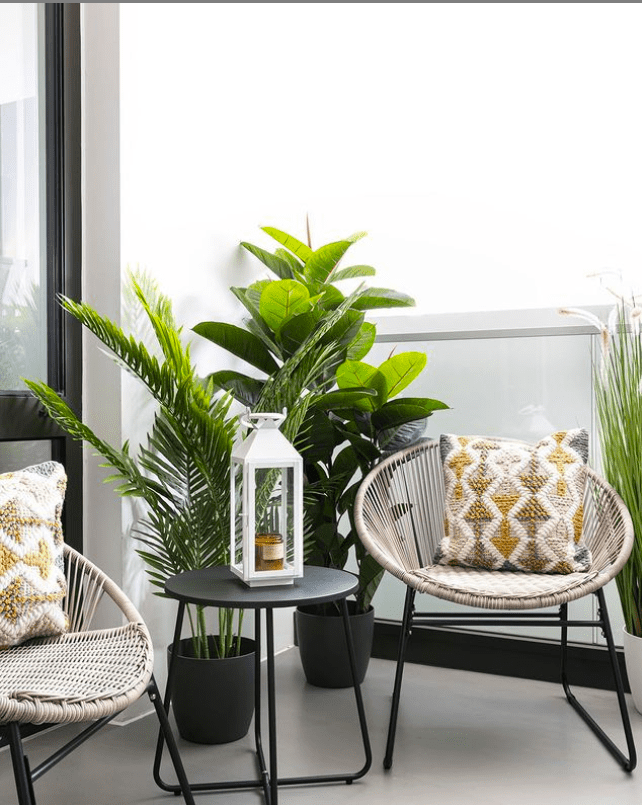 Depending on the supplier, you can find Acapulco chairs or sets for anything between $200 – $500. While it may seem like a big investment upfront, remember that these chairs will last for years, and sometimes they're all you need to decorate your space.
Conclusion
Acapulco chairs aren't the only type of seating option for small balcony spaces, but they're a fantastic addition to consider if you're struggling to find something that's stylish, comfortable and functional. Hopefully we've provided you with some helpful examples for how Acapulco chairs can transform your space.