Balcony Boss is reader-supported. When you buy through our links, we may earn a small commission at no cost to you. For additional information, please view our policies.
A glass balcony can restrict decorating ideas. After all, you have less available space for painting combined with a greater potential need for privacy.
Even so, there are still things you can do to spruce up your space. Below we cover our top ­­9 tips for decorating a glass balcony.
Glass Balcony Decorating Ideas
We can think of a glass balcony as a much lighter and brighter space than one with a brick wall or wood railings. You should use this to your advantage when choosing furniture and colors, as they should complement the space's available light.
1. Getting colorful
Although you can paint a glass balcony railing, nothing is stopping you from painting the wall space on your balcony or accessorizing the area with colors. Of course, check your renter's agreement or HOA to see if you're allowed to paint.
To work with the balcony's light, use bright, airy colors. White is an obvious choice, but many find it to be boring. Consider the following color options:
North-facing: cream, off-white, buttery (yellow) neutrals
East-facing: duck-egg, gray, neutrals with blue/green undertones
South-facing: light gray with blue undertones, lavender
West-facing: yellow, orange, warm neutrals
2. Use Light furniture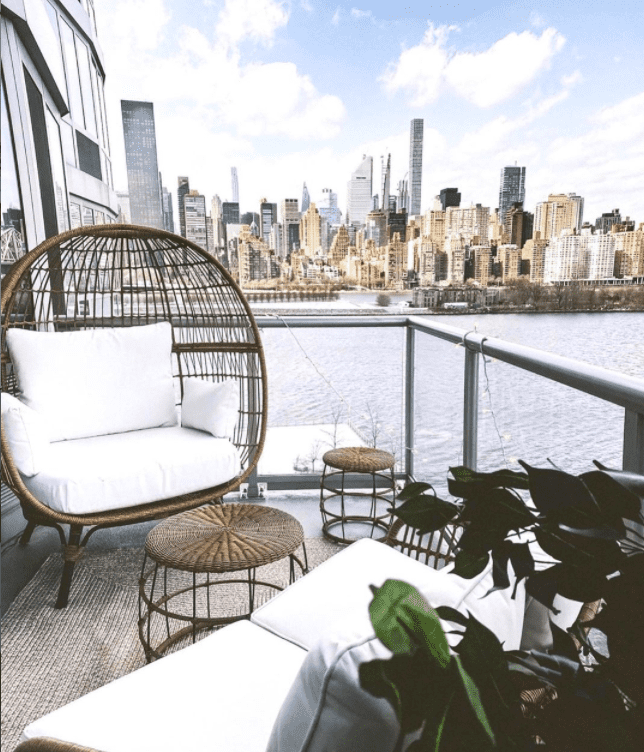 Clean lines and a more "open" feeling often characterize a glass railing design for a balcony. As such, you should avoid bulky furniture pieces because they can enclose the space and make it feel cramped.
Look for rattan or wood slat pieces, particularly for chairs and tables. You have more freedom with shelves and storage units, but avoid anything too dark and heavy.
It doesn't mean you can't do comfortable, though. Padding a rattan chair with some large sumptuous cushions can still make the space feel inviting without being too cramped.
3. Go wild with plants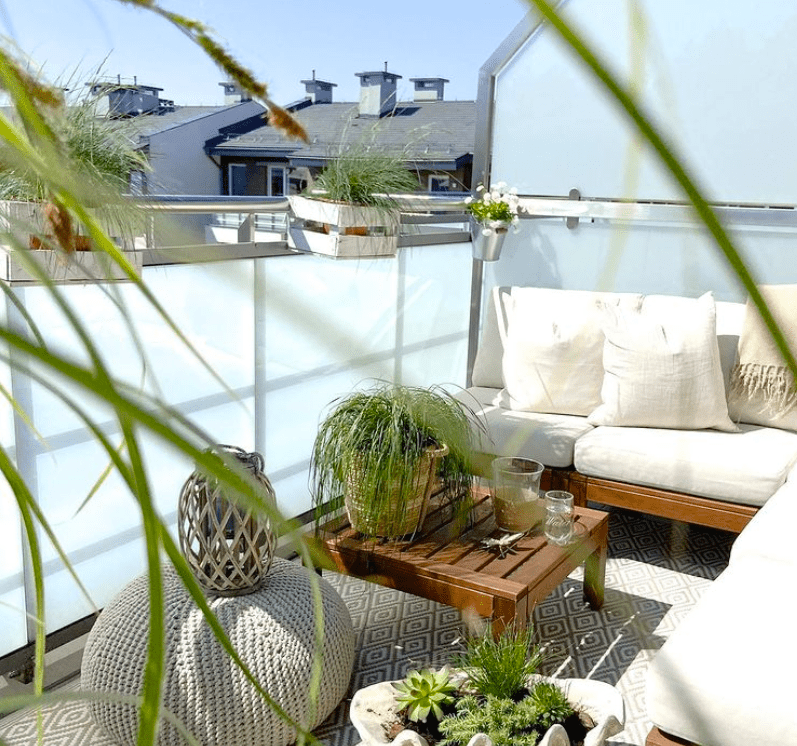 A major benefit of a glass balcony is the amount of light it lets in. You can include far more greenery than you would with different balcony types. So, use this to your advantage and create a balcony jungle.
While you might struggle with railing planters depending on your railing design, floor planters will do well behind a glass balcony. Plus, if you want some privacy, you can grow bushy plants as a privacy screen.
There's no set rule about what plants you should grow but look for things that enjoy bright sunlight. Even on north-facing balconies plants will get more light than they would indoors.
4. Light up the railing
There's not a ton you can do with a glass railing on the lighting side. That said, you can easily hide mood lighting under the railing or stuck directly to the glass panes.
If you want to go really basic, an LED closet strip light will do the job. You can hide this under the railing so it brightens your balcony up without being too obvious.
But, if you want to go a bit more out there, consider LED strip lights or under cabinet lights.
The aim is to light up your glass balcony using subtle touches rather than obvious lighting.
5. Furniture layout
How you arrange the furniture on your glass balcony ultimately depends on your space and goals. If your balcony is small then your options will be more limited. But, with a larger balcony, you have far more freedom.
The 2 main options are: facing towards the balcony railing or not. If you have a great view, it makes sense to arrange your seating pointing towards it. After all, the benefit of a glass balcony is that it gives you an unobstructed view of the area.
But, if your balcony is close to your neighbors or there isn't anything worth seeing, it makes sense to rearrange your furniture. Opt for individual chairs rather than a sofa and point them at each other.
Add a coffee table in between and some plants to decorate the railing, and you have a cozy, private outdoor seating area.
6. Add some vinyl transfers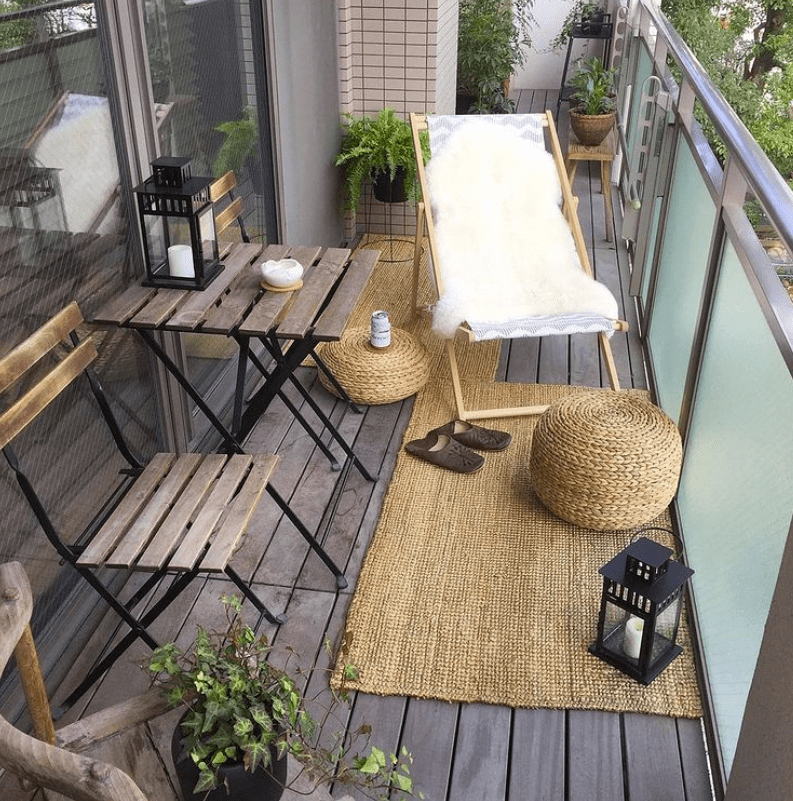 Glass balconies are notorious for their lack of privacy. If you want to change this without losing too much light, you don't have loads of options.
One that's worth considering is glass vinyl transfers. You simply stick them to the glass, and you're done.
There are numerous options for frosted glass depending on the style you want for your glass balcony. For example, you can get stained glass transfers, faux-frosted privacy transfers or a range of patterns.
You might find it easier to work with a roll rather than pre-cut transfers, as you won't have to deal with pattern matching.
7. Build some furniture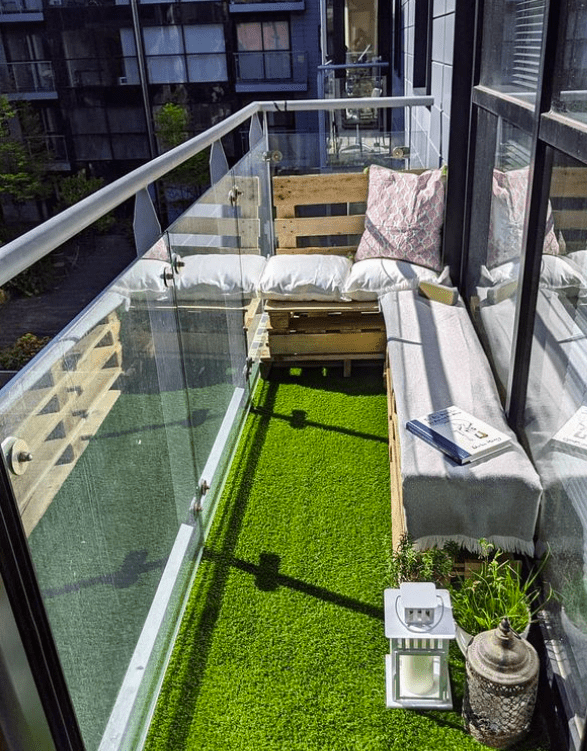 If your budget doesn't stretch to rattan furniture, consider building something instead. A pallet couch is ideal because you can tailor it to your space and aesthetic, providing you have some DIY skills.
We've previously written an extensive guide on how to build a pallet couch, so check that out for more information.
8. Accessorize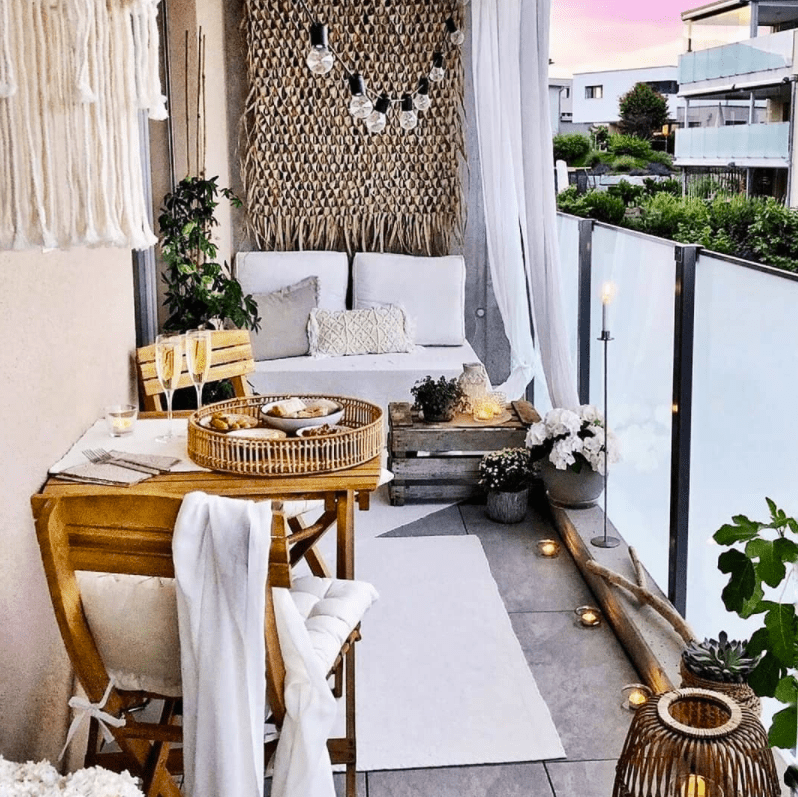 A glass balcony is the blankest of canvases, so why not take advantage and accessorize to your heart's content?
Although your options for railing planters are more limited, some work well on a glass railing design for a balcony. The same is true for balcony bird feeders if you feel like attracting some wildlife to your balcony.
We've spoken about railing lighting, but light up other areas, too. As always, string lights are perfect, as are battery-powered lanterns.
Of course, it's always worth settling on an overall style theme. There are plenty of options, but it makes sense to stick with something light and airy. For example, boho and Scandi work well in such a bright space because they rely on light colors and lightweight furniture.
9. Separate from your neighbors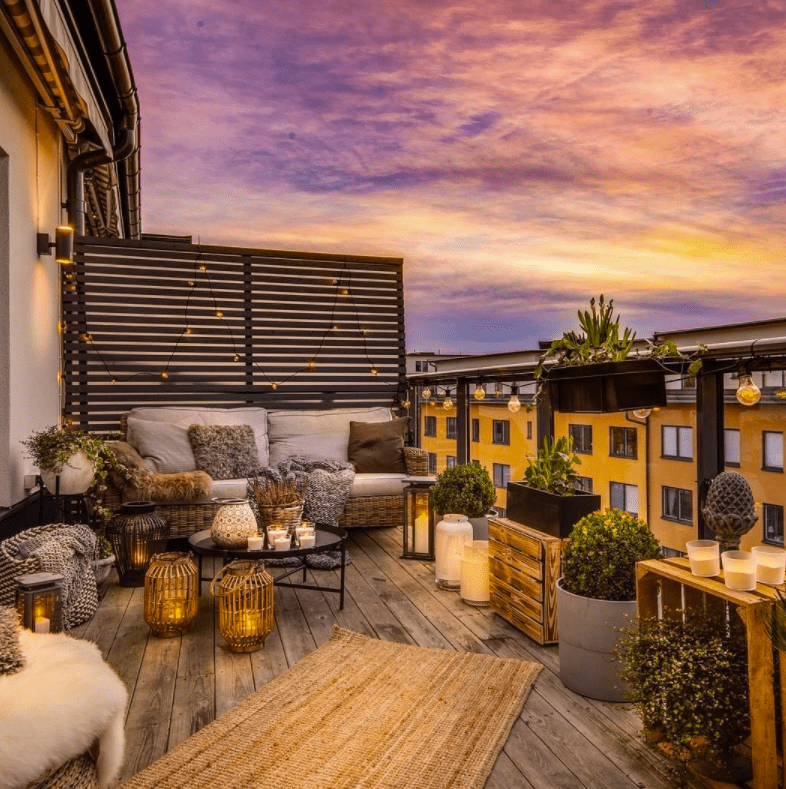 If you live in an apartment with a glass balcony, there's a good chance that you're surrounded by similar balconies above, below and next to you. This means that no matter how much you decorate your space, you still might feel more connected to your neighbors than you want to be, especially when your space is visible from all 3 sides.
This is where a tall metal privacy screen divider can work wonders. Not only will it add an element of style to your space, but it will make your balcony feel much more secluded and private.
Conclusion
Hopefully, this article has given you some inspiration for decorating your glass balcony. While there are more considerations than balconies with walls, you can accomplish a lot with the right style tips.
The most important one is to work with the space's brightness and sleekness. Don't use heavy furniture or too many dark colors to prevent it from feeling cramped.
Apart from that, let your imagination run wild and design the glass balcony of your dreams!